The Tabletop Technology Revolution Isn't Here Quite Yet: Business Casual
We've heard a lot in recent year about the promise of new technology that will radically alter the restaurant experience. Tabletop technology like tablets for ordering and payment have been touted as game-changers for restaurants, allowing for increased ordering and a more efficient waitstaff. 
But, not everyone is sold on the revolutionary potential of this technology. On this week's episode of Business Casual, Daniel Litwin & Tyler Kern introduced a new segment called The Comments Section where they comment on business related op-ed pieces. 
What do they have to say about tabletop technology? Find out in this installment of The Comments Section. 
Tune in to Business Casual, MarketScale's live radio broadcast, every Friday at 8 a.m. CST.
Latest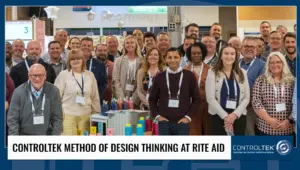 December 4, 2023
The video showcases a dynamic workshop titled "CONTROLTEK Method of Design Thinking at Rite Aid," highlighting the collaborative and innovative efforts between CONTROLTEK and Rite Aid teams. It features scenes of brainstorming, prototype development, and group discussions, emphasizing CONTROLTEK's customer-centric approach to problem-solving and innovation in retail solutions. The workshop demonstrates how cross-functional teams […]
Read More