What Travel Currently Looks Like
With so many international travel restrictions still in place, and so many of us itching it get out of our living rooms, people are looking to hit the road. Polls have found that destinations within 300 miles seems to be the comfort zone of most Americans—indicating this could be the summer of road trips.
Here are a few tips for doing a road trip this summer.
Pre-Plan Your Route
Before you head out on the road, now more than ever, you'll need to preplan your route. Since states have varying restrictions, you'll have to consider it all.… know your destination, decide on the route, determine pit-stops, and reserve your hotel ahead of time and call to confirm details on their offerings.
Pack Smart
What you pack is just as important as pre-planning your route. Health officials recommend bringing along items like masks, hand sanitizer, disinfecting wipes, disposable gloves, and resealable plastic bags.
Pack your favorite road trip snacks and drinks. This will limit the need for stops, which limits contact with others. Pass on items that leave a lot of crumbs.
Don't forget to pack small garbage bags to collect trash in between pit-stops.
Where To Eat?
Some states are already allowing restaurants to offer dine-in options. But seating capacity can be limited, and some states are only allowing outside dining. Of course, you'll always have the option of take-out and drive-throughs at larger fast-food chains.
Remember Hygiene at Rest-Stops
This should go without saying but keep in mind safety precautions at high-touch rest-stops.
Public restrooms will expose you to more germs. Remember the paper towel trick, and use one to touch faucets and open doors. Use disposable gloves when pumping gas. Pay with your card where and when possible.
Go Off the Beaten Path
Choose lesser known destinations to minimize the chance of being around crowds. If you need to a getaway but too busy to escape for a longer trip?
Have a Solid Playlist
Don't forget the music! Every great road trip deserves an even better soundtrack—so design it accordingly.
The Hotel Experience Will Look Different
Expect High-tech, low touch, grab-and-go options at breakfast, socially distanced seating arrangements. Hotels have done a great job in doing their best for guests–now guests need to just work with hotels.
A great quote said by Arne Sorenson, CEO of Marriott, "Travelers who resist wearing masks are risking the recovery of the hospitality industry." We all want to go back to work and go back to a normal life–so let's work together to get ourselves there!
Those area few of my tips! Are you hitting the road this summer? Drop a comment below on where you're off to!

Latest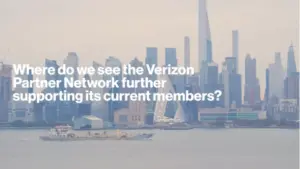 December 1, 2023
The support systems within partner networks are more crucial than ever as the telecommunications industry witnesses more and more shifts in its landscape. To discuss this on an episode of The Verizon Partner Network, Mark Tina, VP of Indirect Channel Distribution and Channel Chief at Verizon Business Group, provided an outlook into how Verizon […]
Read More