When Will International Travel Return?
No one thought back in March, when travel bans first went into effect, that we would still be here seven months later. The unfortunate thing is that many are questioning if there is an end in sight. A few factors, from a "second wave" of COVID-19 sweeping through Europe to a politically disruptive presidential campaign in the United States to a vaccine not being available yet, all of these huge factors into delaying opening up travel between Europe and the United States. Unfortunately, the reality of the situation is that international travel will unlikely open up this year.
That being said, there are many big organizations that are actively looking to find solutions to open up travel sooner than later.
A New Digital Health Passport is Looking to Restart Travel
Called, CommonPass, this program is already back by some big industry players like the U.S. Customs and Border Protection, American Express Global Business Travel, United & Cathay to name a few. CommonPass was developed by Swiss-based nonprofit the Commons Project and the World Economic Forum; it is being presented to 37 governments (and counting) as a way to help facilitate the reopening of borders and travel amid the coronavirus pandemic.
The purpose is to enable safer airline and cross-border travel by giving travelers and governments confidence in each traveler's verified Covid-19 status, and provide a framework that sets standards for lab results and vaccination records, as well as a system that allows different countries to set their own health criteria for entry. But is this the answer to restarting travel, and can they convince governments that Covid-19 testing, not quarantines, is the best way to reopen borders? Time will tell.
Other interesting news in travel:
Canada Reopens Borders to Extended Families, Couples, and Students
While U.S.-Canadian border restrictions remain in effect through at least October 21, Canada's government is working to soften the rules to accommodate certain types of travelers. Arrivals will still be required to quarantine, unless they're specifically granted an exemption due to extenuating circumstances. Every visitor will need to apply for and receive official authorization before they can travel to Canada.
Rome's Fiumicino Airport Awarded World's First " COVID-19 5-Star Airport Rating" from Skytrax
On September 1, the airport opened their own Covid testing center. The airport scored points for having easy-to-read signage in multiple languages, strict enforcement of mask wearing, and visibly present cleaning staff. For reference, three other airports have been awarded three stars for their Covid response – Malaga-Costa del Sol Airport (AGP) in Spain, Nice Côte d'Azur Airport (NCE) in France and London's Heathrow Airport (LHR).
IHG Data is Showing That Younger Travelers Prefer Much Shorter Booking Windows
This will continue to prove to be a forecasting challenge, especially for labor and costs–note for all you travelers watching—yes, hotels do plan ahead for your arrival! They found that 63% percent of Americans now make reservations at an IHG hotel within two days of their stay compared to 39 % last year. Nearly 40% of British travelers are booking in that same two-day window compared to a little more than 20% last year.
Needless to say we are at an interesting time right now. More than just travelers, but businesses and governments are eager to get travel back up and running. But, simply put, we just aren't there yet.

Latest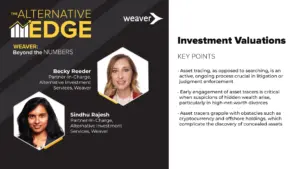 December 4, 2023
In this episode of The Alternative Edge, a Weaver: Beyond the Numbers Podcast, host Becky Reeder, an audit partner and co-leader of the alternative investments practice at Weaver, engages with Sindhu Rajesh, an Alternative Investment Services Partner with Weaver. They unpack the complexities of venture fund valuations, offering critical insights into industry dynamics and best […]
Read More