Will Ecotourism Factor in to Peoples Travel Plans in 2022?
Driven by consumer desires for new experiences, innovative technologies and environmental impacts – travel is changing. Host Sarah Dandashy explores the technologies and logistics that power travel and the brands that build unforgettable experiences.
Jadine Yarde, CEO of Nevis Tourism Authority (NTA), showed off her city to Host Sarah Dandashy by letting the backdrop speak for itself — a stunning beach view with wind blowing through her hair.
Although growing up and living in major US cities most of her life, Yarde grew tired of the city life and decided to move to the Caribbean, a place near and dear to her and her family. Having lived eight years now in the Caribbean, two of which were with the NTA, she's a walking billboard for promoting the Caribbean tourism life and has no regrets on the bold move.
"We took a water taxi over to Nevis, and it was the most breathtaking experience of my life," Yarde recalled. "And at that moment, the anxiety just went away…The essence of the island overall was really able to captivate me and make me feel comfortable."
With no stoplights or fast-food restaurants on the island, it's a place you come to not be a stranger and to slow down. Nevis isn't overrun by crowds and boasts the first luxury hotel in the Caribbean, giving visitors the best "barefoot luxury" experience to truly getaway and unwind without any pretentiousness.
According to Yarde, the two biggest factors that sets Nevis apart are the people and sharing of its culture. For instance, Nevis offers a farm tour that encompasses the heart of the island — agriculture. Yarde continued bragging on Nevis, painting an intricate picture of a special healing space, sell-out-worthy island specialty drink, culturally rich festivals, and more.
More Stories Like This:
Latest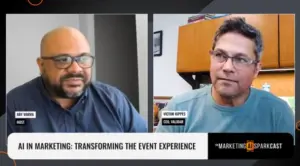 November 28, 2023
AI has been gradually changing the landscape of event technology at a very rapid pace. In an industry where staying ahead of technological trends is crucial, AI's impact on marketing and event management has become increasingly significant. As witnessed in the rise of account-based marketing and enhanced personalization, AI is effectively reshaping how events […]
Read More