Why the Cruise Industry Requires a Unique Customer Service Model
The cruise industry was always a favorite for travelers, and it's finally resurging after the pandemic. What does this new cruise experience look like, and what are guests now expecting? To answer this, Say Yes to Travel host Sarah Dandashy spoke with Paul Rutter. Rutter is a customer service expert, author, speaker, and spent 40 years as a cruise and entertainment director.
Rutter's path to the industry was unexpected. He graduated from college with a teaching degree, with plans to travel before starting his career. A chance meeting turned into an offer to work on a ship. "I worked on multiple lines, received education from all these, and was traveling all over the world and getting paid."
Rutter pointed out what makes cruising unique across hospitality and any other sector. "We live with our customers 24/7 and our coworkers. So, culture onboard is important. There are so many nationalities, so everyone has to be taken care of—happy crew, happy guests," Rutter shared.
Cruises went dormant during the pandemic and are now back on the waters. Rutter explained that the cruise lines got together to create plans and procedures. "The cruise industry has been light years ahead of others in health and safety. Now with the plans and requiring vaccines or negative tests, there have been few outbreaks."
The operational model had to adapt to the new reality, with contact tracing, crew-served buffets, and cordoning off potential cases.
Even though the environment is somewhat different, the commitment to exceed expectations and care for crew is still the same. Rutter's More Than Perfect Customer Service Model drives satisfaction, retention, and loyalty. He combined this model and anecdotes from his 40 years in the business in his new book, "You Can't Make This Ship Up."
More Stories Like This:
Latest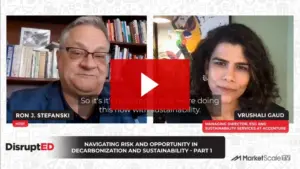 September 26, 2023
The global conversation has shifted dramatically towards decarbonization and sustainability in recent years. With the world experiencing unprecedented levels of disruption, from 5G technology to the challenges of a pandemic, the urgency to address climate change and its implications has never been more palpable. Although most business leaders see the vision of Sustainable Development […]
Read More