ANGA COM 2019 Brings Broadband World Together
Europe's leading conference for broadband and content professionals begins June 4 in Cologne, Germany.
ANGA COM 2019 expects to build off its 2018 event, which eclipsed 500 exhibitors and 20,000 attendees. Key topics at the upcoming conference, which runs through June 6 are:
-Gigabit Networks
-Smart Homes
-WiFi
-IPTV
-Cloud TV
-UHDTV
-Personalized TV
Four summit speaking sessions highlight this year's ANGA COM. These sessions are the International Content Summit, the International CTO Summit, the German Broadband Summit and the German Media Summit.
There will also be 13 technology panels where attendees can learn about the latest products in cybersecurity, cloud services, 5G and more.
For coverage of the event and all things IoT, head to our industry page!
Latest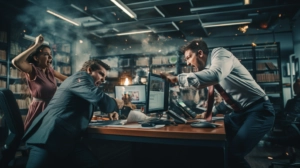 September 22, 2023
The kind of news that is delivered everyday serves as a grim reminder of the escalating violence across the U.S. Evidently, the need for proactive measures to ensure safety has never been more pressing. Such violence is not limited to any particular locale. It's actually permeating in so many different areas once considered […]
Read More