New Biden IoT Security Program Will Give U.S. IoT Adoption a Boost
The Biden Administration's recent launch of the U.S. Cyber Trust Mark, an IoT security labeling program, is a significant stride towards safeguarding Americans from associated security risks. It will feature a distinct shield logo on products that meet cybersecurity criteria, including unique and strong default passwords, data protection, regular security updates, and incident detection capabilities.
The program is expected to alleviate one of the biggest barriers to IoT adoption – security concerns. Consumers will hopefully have a clearer understanding of the security aspects of the IoT devices they use. The labeling program is also a major step towards transparency in other tech areas that are growing and changing quickly, like AI, for example.
This initiative not only places the U.S. at the forefront of IoT security, but also paves the way for other nations to follow suit. Several major retailers and tech firms, including global companies like Amazon, Best Buy, Cisco, Google, and Samsung, have already agreed to the voluntary labeling initiative. As more companies voluntarily align with the requirements of this labeling program, the adoption of IoT devices is anticipated to surge. The current number of IoT devices globally is 7 billion, but this figure is expected to grow to more than 25 billion total IoT devices by 2030.
Debbie Reynolds, Adjunct Professor of eDiscovery Certificate program at Cleveland-Marshall College of Law and host of The Data Diva podcast, dives deeper into this new program and its implications going forward.
Debbie's Thoughts:
"The Biden Administration's launch of an IoT security labeling program is monumental, not only in the US, but it sends indication to people internationally that the US is really leading the way in terms of bringing an unprecedented level of transparency to consumers, but then also bringing in something that companies can understand and be able to use to bring some level of consistency around how they're communicating with consumers around IoT devices and type of security that they have.
I think IoT security is a great barrier to IoT adoption, so something like this labeling program is going to be a major change, or major shift, in how we see adoption grow with IoT devices. I think IoT devices have grown a lot, but I think they'll grow a lot more, especially as we see companies come together, be able to voluntarily align with the requirements for this type of labeling. And also, I think it will give consumers a lot of comfort as well.
I think this is a great step, I think this is a step that possibly other nations will look to in the future and also, this is a building block. So I think this is the foundation for more transparency and possibly in a lot of other spaces, including things like AI, where technology is being used in unprecedented ways and customers, or consumers, are being able to adopt these innovations in a fast pace, but do it in a way where they understand the security of the devices and that's very clear to them. Thank you."
Latest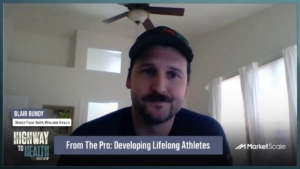 September 20, 2023
Blair Bundy, the Director of Player Health for the Milwaukee Brewers, recently shared his insights on the importance of nurturing lifelong athletes from a young age. He emphasized that the ultimate goal for children participating in sports is not just about winning games but about fostering physical and mental resilience. Such individuals lessen the strain […]
Read More