How Can Companies Respond Legally to Digital Fraud
The way we communicate, share data and use technology to act on those insights is changing – and it's all leading to the cloud.
On In the Cloud, every week new experts will engage in a fire side chat and will bring their extensive experience in software, IT and mobile solutions straight to you, offering a glimpse into the future of cloud connectivity around.
Digital Fraud has always been an issue, but the COVID-19 pandemic accelerated attacks. Fraudsters looking to take advantage of a cataclysmic world event and work-from-home employees with lower cybersecurity found the time fruitful.
On this episode of In The Cloud, Voice of B2B, Daniel Litwin talked with Tony Petrov, Chief Legal Officer at Sumsub, series A startup working on solutions to help prevent digital fraud. Petrov gave insights on trends around digital fraud, current motivators, how companies should and shouldn't be responding, and legal aspects of cybersecurity.
A Transunion report found that fraudster threats against businesses increased 46 percent during the pandemic. These threats certainly increased due to lower security as employees transitioned to their home office with lower cybersecurity. Often, the attacks come from users who have fraudulent accounts. But, digital fraud isn't often covered, so companies and employees are left exposed after an attack.
"Legally, digital fraud is not covered at all, so you will not find it in any duty," Petrov said. "There is no duty, for example, that you need to counter digital fraud."
The increase in digital fraud attacks has also led to some high-profile attacks in the last year, such as the Colonial Pipeline. These types of large attacks have companies asking what they should do in such an event and how they are responsible. This is leading many companies to seek out more secure networks and digital storage, according to Petrov.
Latest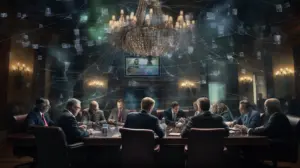 October 3, 2023
In August 2023, the National Institute of Standards of Technology (NIST) put out a request for comments on the Preliminary Update from the Internet of Things Federal Working Group (IoTFWG), which aims to provide the nation direction on how to improve IoT adoption and expand its use cases for the future of industrial, corporate, […]
Read More