How the TSA Rebuilt Public Trust After Faltering
As our lives become ever more connected, globalized and intrinsically linked, there is a revolution brewing ready to ensure we can step forward confidently to embrace the world we find ourselves in.
Bringing together leaders, lawmakers and lawbreakers, The Trust Revolution dissects how trust is established, shared and challenged as we enter the next great technological revolution.
Through his work as the CEO of WhiteFox Defense, a global leader in the drone airspace industry, Luke Fox has helped unlock the full potential of drones through trusted autonomy. Now he is bringing that expertise each week as he sits down with the leaders that are shaping technology and security.
Trust is a powerful emotion. When people have it among one another or it's part of an organization, everyone benefits. Trust drives opportunity and solidifies that a culture is harmonious and connected. Vice Admiral Peter V. Neffenger, former Vice Commandant of the U.S. Coast Guard and TSA Administrator, shared his thoughts on the Coast Guard's culture of trust and how any company can apply it.
While every member of the Coast Guard is responsible for their specific duties, they are united by a common motto—always ready. To be always ready requires substantial trust through every layer of the organization.
"The Coast Guard has a collective mission mentality. I never had a concern that those below me would do their job. It freed me to talk about what direction [we needed to] steer these capabilities and apply it in the best possible way," Neffenger said.
Neffenger also served as the head of the TSA under the Obama administration. He was nominated to the position during the fallout surrounding a scathing report on the failure of the TSA that went viral, and many people were questioning if the agency should exist at all.
Trust between citizens and the TSA was damaged, but Neffenger was hesitant to just place the blame on the Transportation Security Officers. A pivotal life and management lesson he learned from the Coast Guard was to put people first — "if you say you care about people but the first thing you do when you come in is start taking people out at the knee caps, then you really don't care about people."
He knows 25-30% of the officers on the frontlines of TSA are former military and, even though they are now wearing a different uniform, you don't just forget the years of training you had.
To better understand how the failures of the TSA occurred, he had to go to the front lines.
"I wanted to hear directly from those on the frontlines. What were their challenges? What training is lacking? What tools are you missing to be successful? They were skeptical about trusting me. I asked what they needed to see from me, and the answer was showing up," Neffenger said.
Without a strong culture of trust, the mission of always ready would be difficult to uphold.
Applying the Coast Guard's culture to other entities starts from the top.
"Are you, as a leader, reflecting your mission or vision? Because, if you're not, others will see this. Leaders cast a shadow. The information or behaviors in that shadow will be noticed if they aren't aligned with the culture. Leadership also provides permission, which can be positive or negative," Neffenger said.
Trust is critical for every organization. It creates passion, accountability, and a feeling of belonging to something bigger. Making it part of a culture can lead to success for all.
Tune in Every Other Tuesday for a New Episode!
Latest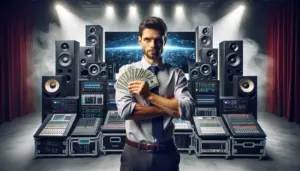 December 8, 2023
Mastering AV sales strategies in a global professional audio-visual (Pro AV) market, poised to reach $79.2 billion by 2028, requires much attention to detail. The surge in demand from corporate, government, and institutional sectors, driven by the need for enhanced productivity and efficient working environments, gives AV sales pros a lot of opportunity. In […]
Read More