Introducing The Trust Revolution: A New Tech Podcast Show
MarketScale is adding another exciting original podcast to the lineup of thought-leading shows, as WhiteFox CEO Luke Fox is set to host The Trust Revolution, a show aimed at exploring how innovations in business and technology are redefining who, what and how we trust.
As our lives become ever more connected, globalized and intrinsically linked, there is a revolution brewing to ensure we can step forward confidently to embrace the world we find ourselves in. Bringing together leaders, lawmakers and lawbreakers, The Trust Revolution dissects how trust is established, shared and challenged as we enter the next great technological revolution.
WhiteFox is a global leader in drone airspace security. Pioneering the safe integration of drones into society, WhiteFox products securely manage drones in sensitive airspace worldwide.
Prior to WhiteFox, Fox successfully built and operated cyber-forensics and high-performance drone manufacturing companies. During this time, he came to recognize the power that drones have to change the world—it just depends whose hands they are in. This realization spurred his vision for establishing a comprehensive market solution to ensure drones fly safely and legally.
Outside of WhiteFox, Fox is a strong, persistent advocate for children's rights and legislative reform and is actively involved in the technology community on the central coast of California, where he lives and works. He was named to Forbes 30 Under 30 list for his ongoing innovation and advocacy.
With The Trust Revolution, he'll explore how security and counter operations are built into technology and the emerging security standards the industry can expect as new technologies emerge. With great power comes great responsibility.
Stay tuned for the debut episode of The Trust Revolution on November 3rd, then catch future episodes every other Tuesday.
Latest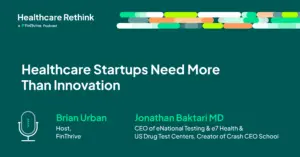 December 11, 2023
Healthcare startups need more than innovation; they require dynamic leaders willing to take these endeavors beyond the ordinary into uncharted waters to generate unparalleled success and lead the industry forward. In the latest episode of The Healthcare Rethink Podcast, host Brian Urban sits down with multifaceted healthcare leader Jonathan Baktari, MD, CEO of eNational […]
Read More