How IoT & AI Solutions are Supporting Projects at Scale: In the Cloud
The way we communicate, share data and use technology to act on those insights is changing – and it's all leading to the cloud.
On In the Cloud, every week two new experts will engage in a fire side chat and will bring their extensive experience in software, IT and mobile solutions straight to you, offering a glimpse into the future of cloud connectivity around.
On the inaugural episode we will be tackling how IoT & AI solutions are supporting projects at scale, and what that means in terms of accessibility of said solutions, impact of solutions, and future improvements to the tech.
2020 has been the year that technology has been fast-tracked to keep pace with the changing demands of society and the economy. The marked acceleration has been heard and felt throughout the AI and IOT industry as companies turn to automation to operate with more efficiency, safety, and at cost savings. "In the Cloud,' welcomes guests Carl Hillier, Senior Research Director at Deep Analysis, and Allen Proithis, CEO of Capstone Partners, to discuss how AI and IOT has delivered, for both big Fortune 500 companies and small to mid tier companies.
IoT is more than just numbers and data, it's what you do with that data, explains Proithis, "It's not enough to generate the reams of data that the IoT can, it's being set up as a an organizaiton to take advantage of that, derive real business insight." Hillier elaborates, explaining how to intelligently pull out info and feed it back to a central hub, providing efficiency and better transparency in shipping and supply chain scenarios.
"IOT isn't a little box you bolt onto something, it's actually built into the system themselves," said Proithis. Whatsmore, AI isn't designed to take jobs away from people. On the contrary, it adds more value to the worker, taking away the drudgery and repetition, and leaving room for innovation and design. This trend will only deepen as the economy morphs around the pandemic, but ultimately says Hillier, it provides a better experience for the customer.
Stay Tuned For New Episodes
Follow us on social media for the latest updates in B2B!
Twitter – @MarketScale
Facebook – facebook.com/marketscale
LinkedIn – linkedin.com/company/marketscale
Latest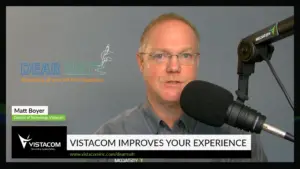 December 11, 2023
In a time when the AV industry supply chain faces unprecedented challenges, understanding its current status and future trajectory is crucial. In this week's segment of "Dear Matt," presented by Vistacom, host Matt Boyer, the Director of Technology at Vistacom, brings his over 30 years of experience in the audiovisual industry to the status […]
Read More