Is the Digital Transformation Opening Our Infrastructure to Cyber Attacks?
The way we communicate, share data and use technology to act on those insights is changing – and it's all leading to the cloud.
On In the Cloud, every week new experts will engage in a fire side chat and will bring their extensive experience in software, IT and mobile solutions straight to you, offering a glimpse into the future of cloud connectivity around.
Critical infrastructure has been area slow to upgrade from legacy systems. Historically, they haven't been connected, but now the pressure of digital transformation is building. Unfortunately, with that comes the potential for more vulnerabilities, so what's the right approach to reduce risk and improve performance? On In the Cloud, host Daniel Litwin discussed the topic with Yair Poleg, CTO and Co-Founder of Ayyeka, and end-to-end hardware and software solutions for connecting asset and infrastructure networks to data systems.
"The majority of energy, wastewater, and other environmental aspects are still not connected. Becoming connected could improve performance, and industrial information systems weren't designed with cybersecurity in mind," Poleg said.
"The industrial information world wasn't designed with cybersecurity in mind, but it doesn't have to be this way." – Yair Poleg
However, the increased risk of cyber attacks, which are at least driving awareness, doesn't have to be a given. One key thing Poleg recommended is keeping things separated and isolated. "It's very hard, though, to change infrastructure networks. They serve millions of people, so you can't just go in and rework the network layout. It's a gradual process."
Regulations could be a path forward to initiate standardization from a national level down to the local level. Poleg noted that the biggest challenge is a gap between those that operate networks and security experts. "Engineers have a different background, and their main objective is to provide service, but there is a shift in organization with resources to make cybersecurity a bigger priority."
Another concern is that municipalities object to upgrading because they can't afford the time or expense to disrupt service. Poleg explained this is a misconception, "You don't have to drop service to migrate. You can start small with a deployment, and companies like ours help utilities do this. What's important is starting with a vision."
Latest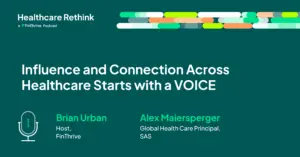 September 29, 2023
In the latest episode of the Healthcare Rethink podcast, presented by FinThrive, host Brian Urban sits down with Alex Maiersperger, the Global Principal Healthcare at SAS. Their conversation charts the role voice plays in influencing and connecting the healthcare industry. Maiersperger, who co-founded the Advancement League, shares his journey from being a healthcare optimist to […]
Read More