Promoting Advancements in Autonomous Mobile Manipulation
Manufacturing facilities have been revolutionized not only through technology but also by necessity. Consumers demand their products faster than ever before, and there are plenty of outlets for them to receive their products quickly.
"When a company like Amazon invests millions and millions of dollars into the robot space it really helps change the way consumers get products," Norm Williams, Director of Robotics-Americas, Omron Automation said.
Williams recently led a session at the Autonomous Mobile Robot Conference titled Advancements in Autonomous Mobile Manipulation.
"By replacing the monotonous tasks that people are doing in manufacturing it increases their overall efficiency," he said.
While robots and automation can make warehouse and distribution centers operate more quickly, they also present change and the inevitable pains of adjustment from tradition. Safety is among the chief concerns around the implementation of these devices.
"The safety of autonomous robots and collaborative robots is definitely high on everybody's list. So that is one of the main criteria for autonomous robots and certainly for mobile manipulation," Williams said.
As more devices, robots and solutions become available to manufacturers, retailers and warehouse managers, industries will have to continue to develop safety standards, according to Williams.
Latest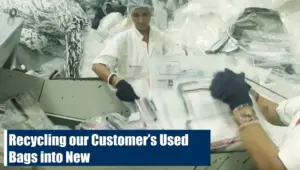 December 6, 2023
This video focuses on EcoLOK4, a groundbreaking product by CONTROLTEK that exemplifies innovation in sustainability. It highlights the process of transforming landfill waste into new deposit bags, with 90% of each bag's material being repurposed trash. This initiative not only reduces waste but also closes the sustainability loop, demonstrating CONTROLTEK's commitment to environmentally friendly […]
Read More