Volvo Group Goes LoRaWAN Over 5G For Its Autonomous Vehicle Production. Experts Say This Was a Smart Move.
5G capacities across the globe continue to improve as countries embrace massive 5G infrastructure projects and as more connected devices launch with the network as their foundation. Surprisingly, though, not all next-gen solutions and industrial connectivity renaissances are going the 5G route. Volvo Group, for example, recently selected private LoRaWAN technology over 5G for its self-driving vehicle manufacturing at its facility in France. Why choose LoRaWAN as the foundation for the company's connected vehicles facility when the buzz is all about 5G, and when Industry 4.0 is seeking to evolve on future-proofed networks?
LoRaWAN, a low-power wide-area (LPWA) technology, has been enabling private networks for years, playing a vital role in Industry 4.0 optimization. In Volvo Group's case, they've deployed a private LoRaWAN network to manage its autonomous vehicles at its facility in Lyon, France, primarily for predictive maintenance. Wi-Fi was initially considered, but the 2.4GHz band was already in use for critical processes. LoRaWAN proved to be the perfect alternative, providing long-range capability, good resistance to interferences, and a secure, flexible network architecture. The outcome? A significant reduction in production delays and a much more efficient AV fleet.
As Volvo Group embraces this classic IoT technology, an intriguing question arises – can LoRaWAN continue to thrive alongside 5G advancements? What role will it play in Industry 4.0? With a keen eye on the IoT realm, Fabian Kochem, head of Global Product Strategy at 1NCE, sheds light on the importance of choosing the right technology to meet specific needs.
Fabian's Thoughts:
"So for me, this is a great example of being 'boring', so to say, IoT use case because Volvo has a very traditional problem in a way. They need to get insights into devices in their factory, and they require the telemetry data from these devices in order to improve efficiency and reduce the amount of outages and to get hands on that data to further analyze it by their operations team, they had to choose on how to get there. And they went for LoRaWAN instead of something that might also be on the radar, which is 5G.
And for me, this makes sense because LoRaWAN is, of course, a great contender for this specific use case where you have a local area, the factory floor in this case, which has a lot of devices, which are sending just a few elements of data, like not of a very like high-quality video stream or something."
Article written by Azam Saghir.
Latest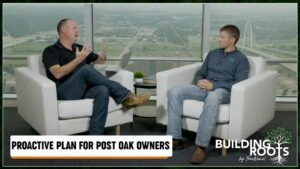 September 25, 2023
In this informative video, we delve into an exciting proactive program for post oak owners known as the TreeNewal Process (TNP). Join us as we explore how this innovative approach is revolutionizing tree care and nurturing healthier, long-lasting trees. Wes Rivers explains maintaining tree health is of paramount importance, and TNP offers a […]
Read More