Why Managed Ethernet Switches Matter
In this episode of The Lion's Den, Tyler Kern spoke with returning guest Barry Turner, Technical Business Development Manager, and first-time guest Megha Agrawal, Technical Project Manager at Red Lion Controls about the importance of utilizing managed ethernet switches in network operations.
This is an important aspect of Agrawal's work. "At Red Lion, I work with strategic customers to make sure their industrial automation and networking needs are met," stated Agrawal. Designing and implementing a robust security strategy to protect automation and networking is essential in today's world.
Turner also discussed the importance of this by first revisiting his early days in the industry. He spoke about the 1990s when the focus was rapid deployment to connect devices (servers, printers, pcs) as quickly as possible leaving little room for robust security strategies. Of course, in the 1990s, who could have predicted the threats that would come with the growth of the internet? It didn't take long before attackers and hackers illustrated just how important security was. Attacks on these quickly built networks could shut them down and even wipe them out completely.
"To combat this, IT administrators everywhere started using robust strategies to protect their networks using layers of protection to help mitigate an attack. Many times, this meant replacing inexpensive unmanaged ethernet switches with managed switches that offer the security features needed to provide a layered approach to security," explained Turner.
In today's world, security is more important than ever. As technology continues to rapidly change, hackers continue to find ways to breach networks and compromise data. Listen in to learn how the industry is using managed ethernet switches to provide robust security to networks.
Latest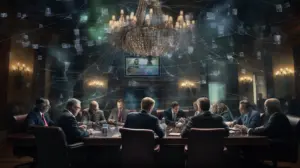 October 3, 2023
In August 2023, the National Institute of Standards of Technology (NIST) put out a request for comments on the Preliminary Update from the Internet of Things Federal Working Group (IoTFWG), which aims to provide the nation direction on how to improve IoT adoption and expand its use cases for the future of industrial, corporate, […]
Read More