The Great Divide: Providing Connectivity for Underserved Students
Imagine the most powerful tools for enriching our children's minds – research, educational platforms, and other online curriculums. Yet, a widespread dilemma for low-income families now remains as being able to provide these resources for their students because of how costly or inaccessible it is to connect to the digital world.
Classrooms are constantly evolving, implementing the next best supplemental solution, and paving the way to reassurance in the quality of K-12 education. However, the core foundations of accessibility limit an affected 9 and 12 million students from opportunities to learn and discourages them from education past high school.
"Students who do not have access to the Internet from home or are dependent on a cell phone alone for access perform lower on a range of metrics, including digital skills, homework completion, and grade point average. They are also less likely to intend on completing a college or university degree." (Quello Center, Media & Information Policy)
It's time to recognize – One in six people in poverty has no internet access at all.
Programs have been formed to address the issue of technological equities including Wi-Fi hotspots and technical help available through bus programs that drive to low-income neighborhoods. In addition to that, there is Lifeline which is a program that provides monthly discounts for standard Wi-Fi.
Reducing the digital divide related to socioeconomic factors are already underway with programs like the FCC's Lifeline Assistance, government funding, and the Wireless Reach program, all with an agenda to bridge that gap for many American families nationwide.
"We feel very confident that at the end of the first phase of connectivity efforts, we went from having a very low ratio of devices in students' hands to being truly one-to-one across our entire state, said Gaby Rowe, Leader in Operation Connectivity Initiative in Texas.
For more StudioDocs like this one from MarketScale, visit our StudioDoc page on MarketScale.com.
Latest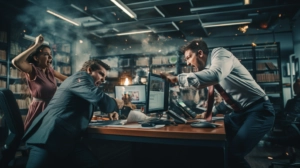 September 22, 2023
The kind of news that is delivered everyday serves as a grim reminder of the escalating violence across the U.S. Evidently, the need for proactive measures to ensure safety has never been more pressing. Such violence is not limited to any particular locale. It's actually permeating in so many different areas once considered […]
Read More