The Weekly Scale: March 22nd 2021
This week at MarketScale, we answered the business versus leisure travel debate, deep fried the world of QSR, and got ready to debut the trailer for the second season of Made in America.
Your bracket is most likely busted. It's the start of a new week, and it's time to scale up.
What do space and archaeology have in common? This week on Space to Grow, space archaeologist Alice Gorman joins the show to explore how agencies will determine which debris to remove from space and which to leave as historical record.
How did Oracle help restaurants in countries devastated by the coronavirus? On this episode of The Main Course, host Barbara Castiglia sits down with VP of Strategy for Food & Beverage at Oracle, Chris Adams, to learn how the tech giant worked with customers in Italy and iconic brands like Outback Steakhouse to take a more data-driven approach to better serving their customers.
As CEO and Co-Founder of SURVIVR, Brian Hoang's mission is to transform law enforcement training. On this installment of Like Its Your Job, Hoang joined hosts Matt Shields and David Shields to share his secrets for making a successful business and why it was important to create this company as a public benefit corporation to ensure the mission for serving the greater good does not get compromised.
The self-storage industry relies on exact timing to get their offerings in front of customers' eyes when they need the service. John Manes and CJ Stratte joined Impressions by On the Move to discuss how they have changed how they stand out to potential customers as a result of a lack of in-person events.
Stop. Automate. And Listen. On the next MarketScale Roundtable, we are exploring the technologies that are empowering the next wave of automation.
The panel will include:
Roberta Nelson Shea, Global Technology Compliance Officer, Universal Robots – Joe Gemma, Global Vice President of Sales & Marketing, Calvary Robotics – and Martin Nobs, Chief Technology Director, Hardinge Americas Grinding
Make sure to follow along for future roundtables. We will be exploring the the Supply Chain Leaders behind Inventory Tracking in the Digital Age on March 29th.
I'll be back next Monday for The Weekly Scale but, until then, if you know of a story that you want us to cover, let us know with the hashtag B2BNeverSleeps.
Latest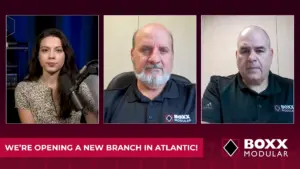 December 4, 2023
In an era where construction innovation is reshaping the industry, modular construction's growth continues to rise. In this episode of Built Modular, Boxx Modular's strategic expansion into Moncton, Atlantic Canada takes center stage. Host Gabrielle Bejarano welcomes Charles Landry and Ray Girouard to explore the implications of this venture. Bejarano, Landry, and Girouard discuss […]
Read More