A Propensity to Talk Density: Exploration Challenges and Opportunities in Malaysia
Roy Kittrell, Regional Geologist (Asia Pacific) at Bell Geospace, is a veteran in the oil & gas space. After fifteen years in the industry, Kittrell said he's worked on everything from core analysis centimeter-scale geology to field scales with geological modeling. So, how did this dual national American/British Geologist find himself working for Bell Geospace in Kuala Lumpur, Malaysia? He sat down with Tyler Kern to fill him in on his journey.
For the past five years, Kittrell's base has been Malaysia, a country he finds rich in national heritage with one of the highest biodiversities of any country. It's a perfect place for exploration in and outside his duties at Bell Geospace.
The current outlook for geological exploration in Malaysia points to a strong year with many opportunities. Kittrell said Bell Geospace was well-positioned to offer data on a lot of these onshore and offshore areas. "We have a new system where we're going to be offering data packages at a reduced rate, and they are available for rent. So, you can rent the data for a full year, and you only pay for the part that's over your block if you win it." And Bell provides many different data packages for interested parties.
The secret behind Bell Geospace's stunningly detailed maps is their utilization of FTG, full tensor gravity gradiometry. "It maps out density contrasts in the subsurface," Kittrell said. "So, using that, we can generate some really amazing maps of the regional geology at a huge scale, and basement mapping is one of the things that FTG is extremely good at."
While FTG can't pinpoint where sought-after Hydrocarbon reserves are, it does provide clues and ideas of what the regional geology and the structure maps are doing. "We have some case studies to show where it correlates to a lot of the known hydrocarbon accumulations."
Latest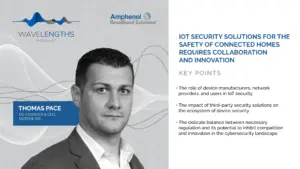 November 28, 2023
Since the introduction of smart devices, the world has increasingly become dominated by interconnected devices but IoT securitydemands are also growing. The "connected home" has shifted from what was once a futuristic concept to reality. With the global smart home market projected to reach $135.3 billion by 2025, the conversation around the security of these […]
Read More