How Businesses Can Prevent Consumer Holiday Shopping Frustration with Queue Management
Key points:
In-person shopping increases during the holiday season
JNRI optimizes the in-shopping and queuing experience with excellent queue management
Information collected from JNRI can be used to measure ROI
On "Experience Evolution," host Michelle Dawn Mooney chatted with Greg Mummah, the Director of Sales Engineering for JRNI, on what businesses can do and utilize ahead of the busy lines expected to increase as consumers try to get their holiday shopping needs done.
The holiday shopping season is one of the busiest shopping periods of the year in the U.S. This year is no different. In fact, since the pandemic started, this year is expected to be one of the busiest, says Yahoo News. In response to the expected busy lines, retail businesses must scramble to ensure that consumers have a good shopping experience, and one of those assisting measures is queue management.
"Insider information is projecting about one trillion dollars in retail holiday sales, which makes up over 80% of all retail sales," explained Greg Mummah, the Director of Sales Engineering for JRNI.
The focus of the conversation was to identify some solutions to keeping consumers happy during the heightened shopping season, and JRNI's role in improving queue management
"The objective of good queue management is simply to prevent a customer from waiting unnecessarily and to give them control of the time that they're spending while waiting for service with you. So, the idea is you can join a line for service in the store, but you don't actually have to physically be in that line. You can use your phone – you can use JRNI, to get a place in line," said Mummah.
Effective queue management improves customer experience and helps them control and manage their time. Many customers may not be uncomfortable waiting in a long queue. Instead, they could use JRNI to get a virtual assistant to give them a number on the queue and the time to return.
As a result, there is a significant reduction in uncomfortable shopping situations during the rush season. According to Shopify, about 64% of retailers acquired during flash sales have a lower lifetime value than shoppers acquired at any other time of the year. Therefore, the holiday presents an interesting challenge because it is almost impossible not to generate new customers during the holiday season. The catch is that these customers do not continue with the relationship due to shoppers visiting different retailers. Therefore, they may only stick to the retailer they get the maximum positive shopping experience.
QR codes are the new technology for optimizing positive customer experience. They allow customers to join a queue conveniently. It presents an opportunity to provide engaging services for customers. In addition, QR codes are not limited to queuing. They are useful for making appointments and many other functions. In addition, It is useful in measuring ROI and management of employees serving the queue.
Latest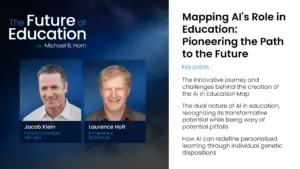 October 2, 2023
Mapping AI's role in education should be a critical step in bringing together innovative technology-based solutions with the expertise of human educators. With rapid advancements in artificial intelligence and an increased reliance on technology-driven educational solutions, the education landscape is on the brink of a significant transformation. AI promises highly personalized learning experiences, efficient administrative […]
Read More