Flawless Execution: The EU Lot 9 Standard — A Firmware Update and Review
Host of UNICOM Engineering's Flawless Execution podcast, Tyler Kern, excitedly welcomed the show's first guest, Mike Cantwell. As the global regulatory compliance manager with UNICOM, Cantwell is an expert on regulatory processes, including the European Union (EU) Lot 9.
UNICOM works with many software companies to configure branded hardware and ship the finished product to the end customers around the world. The key here is that UNICOM takes care of the entire process, such as ensuring regulatory compliance requirements, customs, and duties are appropriately handled.
"UNICOM Engineering works hard to help our customers, and we do that not just by looking at the regulatory requirements, but all the aspects," Cantwell stated.
This is important because, by law, these companies must comply or the product could be seized, the company assessed fines, and ultimately, its brand tarnished. By UNICOM handling these nuances upfront, customers are protecting their brand because both company and the end customers can trust the product.
Part of these compliance standards are derived from the EU Lot 9. As an eco-design directive that requires services to adhere to energy efficiency standards in products, violations are dealt with seriously. If a company is reported as in violation, it will essentially be blacklisted from all countries within the EU and tarnish its reputation.
While the updates required for compliance sounds simple to an outsider, any changes likely require significant product reworking and rigorous testing to ensure the functionality and safety is kept intact. Thankfully, UNICOM helps customers through the entire process.
For more information about compliance and UNICOM's services, subscribe on your preferred podcast platform to the podcast or visit the UNICOM Engineering website.
Latest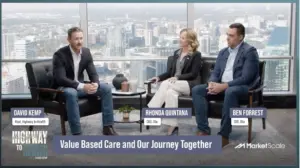 December 7, 2023
As of recent times, the healthcare industry has been progressively shifting towards value-based care, a model that emphasizes patient outcomes over the quantity of services delivered. This transition represents a significant shift that promises to enhance patient experiences and outcomes while controlling healthcare costs. With a growing emphasis on this approach, especially over the […]
Read More