Bridging the Technological Divide: How Consarc is Pioneering Industrial Innovation in Rancocas, New Jersey
In the unassuming town of Rancocas, New Jersey, a technological industrial innovation revolution is brewing. For the last sixty years, the name Consarc has been synonymous with advanced industrial solutions. This legacy dates back to 1962 when Consarc began its mission to design and manufacture melting equipment. Over the decades, their dedication to innovation and customer-centric service has fostered a solid reputation for problem-solving that extends far beyond New Jersey's borders.
Michael Lister, VP of Sales, Noel Pixley, Mechanical Engineering Manager, Mike Mahon, VP of Operations, and  Dr. Andrew Elliott, VP of Technology discusses Consarc and how it has evolved.
Industry challenges today have evolved, primarily grappling with technological adaptation and cybersecurity. On top of these, companies are expected to deliver more with less staff, placing an enormous burden on their internal resources. Consarc, originally a simple equipment supplier, has evolved to help shoulder that burden, morphing into a turnkey supplier for the industry, tackling everything from installation to technology transfer.
Consarc's competitive edge lies in their commitment to customization. "We don't just build machines; we build your machines," says a senior engineer at Consarc, encapsulating the company's ethos. No matter the constraints – space, temperature, vacuum level – Consarc collaborates with their clients to create something that is not just functional, but is also unique to their application. Their strength lies in their willingness to challenge norms, to design things that have never been created before, and to integrate seamlessly with existing systems.
This radical approach to customer service is backed by a strong team. From sales to engineering, technology to manufacturing, every cog in the Consarc wheel is dedicated to making the customer's journey as seamless as possible. When challenges arise, Consarc's hands-on team, assembled in a single building, can address them swiftly and directly, without the delays associated with traditional communication channels.
Consarc has remained a steadfast beacon of manufacturing in Rancas, New Jersey, even as trends and methodologies have shifted. Rather than outsourcing production, the company continues to manufacture in local markets for local consumers, demonstrating a commitment to supporting local economies and ensuring quality control.
At the heart of Consarc's operations lies a team of seasoned experts with decades of experience under their belts. They know their equipment inside and out, understanding not just the technology they're selling, but also the processes their customers are using. This expert knowledge extends to after-sales service, providing support for the lifetime of the equipment.
To ensure round-the-clock customer service, Consarc has representatives stationed around the globe. Remote access to client systems enables them to troubleshoot issues and optimize processes at any time, catering to the schedules of their global clientele.
Consarc isn't just a supplier; they're a partner, devoted to providing advanced industrial solutions to their customers' complex problems, pushing the boundaries of what's achievable, and ensuring that their clients can rise to the challenges of an ever-evolving technological landscape.
By remaining committed to industrial innovation, fostering strong relationships, and going the extra mile for their clients, Consarc is redefining the possibilities of industrial design and manufacturing. This approach has not only cemented Consarc's position as a global leader, but it's also ensuring a brighter, more innovative future for industries around the world.
Latest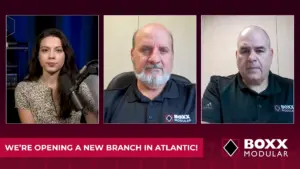 December 4, 2023
In an era where construction innovation is reshaping the industry, modular construction's growth continues to rise. In this episode of Built Modular, Boxx Modular's strategic expansion into Moncton, Atlantic Canada takes center stage. Host Gabrielle Bejarano welcomes Charles Landry and Ray Girouard to explore the implications of this venture. Bejarano, Landry, and Girouard discuss […]
Read More