Evaluating Emerging Markets in AV with Rich Ventura of Sony
On a recent episode of the podcast "Pro AV Today," host Ben Thomas interviewed Rich Ventura, Sony's Vice President of B2B. The two talked about some of the latest changes in the AV Industry and the emergence and increase of new markets in the field. Thomas said that many companies, particularly new ones, are following Sony's lead in the expansion of AV. As a dominant force in the AV industry, Thomas added that these companies are learning from Sony and closely watching where to go next.
Ventura said Sony easily finds itself in these new and emerging markets, such as retail and hospitality, because they've built up that rapport and reputation to try innovative things.
"It's really easy for me to say this is where we're strong because this is where we're strong," said Ventura.
Even when critical moments like the COVID-19 pandemic came around those areas dwindled due to restrictions, but one saw rapid increase in AV necessities. Venutra added that the healthcare market saw the biggest emergence, and explained why that market exploded in early 2020.
"Anyone got hammered the hardest, and when I say hammered the hardest I mean they were the busiest, was healthcare and they really evolved how they've done stuff whether it's telemedicine, communicating with patients, and signage," said Ventura.
He also said Sony has a dedicated healthcare division, and added that healthcare is currently leading in AV evolution because the medical needs of today are different and new technological advancements can allow for that. "Those markets are all continuing to emerge and grow because they're learning about new ways to do their business and it's not like how it used to be. And technology has really had to take that new step to evolve with it … it's the applications that are really emerging," said Ventura.
As a result, Ventura said there is a constant and rapid change regarding the introduction of new applications, which he said he sees on a monthly basis.
The emergence and shift is greatly impacting how hospitals are now upgrading their facilities for more long-term plans and goals in respect to their future and daily operations. "These last two years hospitals had to focus on one thing and one thing only: patients," said Ventura. "They didn't have the time and the ability to go 'Oh, we need to invest in signage and we need to invest with how we're communicating.'"
He also detailed how hospitals and other healthcare facilities have become more creative in their AV needs by prioritizing aspects like LED lights in rooms for therapeutic things like sound and light therapy for patients.
Watch the full episode above.
Latest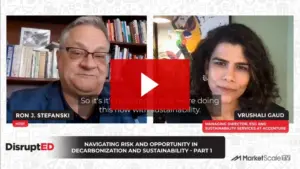 September 26, 2023
The global conversation has shifted dramatically towards decarbonization and sustainability in recent years. With the world experiencing unprecedented levels of disruption, from 5G technology to the challenges of a pandemic, the urgency to address climate change and its implications has never been more palpable. Although most business leaders see the vision of Sustainable Development […]
Read More