Building Continuity and Safety Awareness Between Schools, Law Enforcement, and Communities
Police, social work, and school resources are crucial for safety awareness and all-encompassing care for students in need. However, there are gaps in job requirements and, therefore, gaps in support for at-risk students. On this episode of School Safety Today, host Michelle Dawn Mooney talks to Police Chief Jeffrey Yarbrough. Yarbrough is the Police Chief of Hutto, TX, and former Round Rock ISD Police Chief. He offers insight and guidelines on connecting schools and law enforcement to ensure safety awareness and continuity of care for students. Yarbrough is from Nacogdoches, Tennessee. His father and brother are police officers and served in school policing. His calling to school policing became apparent after tragedy struck his family. Yarbrough's sister died by suicide at 16-years-old, and missing signs that could have prevented it, lit a desire in him to help other youth in distress.
In some circumstances, students are comfortable leaning on their community of friends to cope. That's why it's critical for officers to involve schools and implement services. Texas requires law enforcement to contact a juvenile's school after an arrest. "If we can be required to report information with a student who's been arrested, I think we have that same obligation and responsibility to report when a student has been subjected to a situation that may be causing harm or trauma to the student. And there are other resources in the school environment that can help them through those things," said Chief Yarbrough.
Raptor StudentSafe is a new one-source-of-truth style case management platform that can help school districts collect these types of communications from law enforcement and combine them with other noted concerns to identify students who could benefit from early intervention. ds: school policing, school resources, social work, student safety, student resources, school police, Raptor StudentSafe
Latest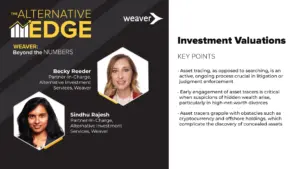 December 4, 2023
In this episode of The Alternative Edge, a Weaver: Beyond the Numbers Podcast, host Becky Reeder, an audit partner and co-leader of the alternative investments practice at Weaver, engages with Sindhu Rajesh, an Alternative Investment Services Partner with Weaver. They unpack the complexities of venture fund valuations, offering critical insights into industry dynamics and best […]
Read More