Squared Away: Successfully Outsourcing Offshore Talent
Securing reliable offshore talent to supplement a U.S.-based workforce can be difficult to manage and maintain. This is especially true if a company has no experience with setting up offshore talent pools. Kevin Christ, Partner at Concentre spoke with Squared Away podcast host Gabrielle Bejarano about the advantages of working with SMC Squared in securing a reliable offshore talent pool that is able to fulfill business demands.
Christ has been an advisor to SMC Squared since early 2020 and is an expert in the field of business technology consulting having worked in the industry since 1985; and one of the reasons he continues to thrive is due to his dedication to evolving with the industry and learning from the opportunities he encounters through work.
Christ has had the opportunity to be an interim CIO on four separate occasions. He reflected on these experiences "that really stretched my thinking. I really thought that as a career consultant I understood everything on their plates. And when I sat on the other side of that desk, I realized that their job is to spin plates and no matter how many they are spinning, someone's going to hand them one more. So, that was a real education for me, and it's changed the way that I approach what I do."
Christ goes on to discuss the many challenges and benefits associated with hiring offshore companies and employees noting that some companies do it well and others do not. The cultural differences in the workforce can prove to be especially difficult to work with. And he's seen companies try to set up their own offshore operation which is very difficult to do.
When he "heard of SMC Squared and their approach to global insourcing, it resonated with [him] as a solution to a lot of the challenges of offshore," reflected Christ.  "I wanted to learn more. As I got to know the company and meet some of their clients – the satisfaction levels were high, the service levels were very good and they really, in many ways, have built a better mousetrap," said Christ.
SMC Squared has a unique and innovative approach to outsourcing talent. The company's success rate in recruiting talent consistently outperforms the marketplace. Retention, cost-reduction, and reliability are at the core of what they do. SMC Squared ensures that they assemble global teams that are an extension of their client's onshore teams—helping to fill their clients' talent gaps.
Now more than ever IT leaders are struggling to complete in the race for digital talent. The increasing popularity of working with offshore talent companies in India has created its own war on talent. Success lies in finding the right partner to work with on offshore outsourcing initiatives.
For more episodes, please visit the Squared Away Podcast series, and to learn more, visit SMC2's website.
Latest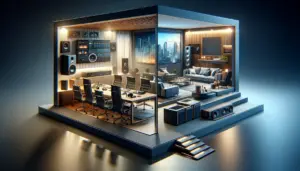 November 27, 2023
In this episode of "Pro AV Today," host Ben Thomas sits down with Audra Kinsley of Sonos Professional to unpack a topic that's causing (sound) waves in the audio industry: the fusion of commercial and residential audio systems. As we navigate through a landscape where consumer and professional audio worlds are increasingly intersecting, Sonos steps […]
Read More