Connected World: Toward a Sustainable Future for Mobility and EV Architectures Part 2 of 3
Ralf Klaedtke, The Chief Technical Officer for Transportation Solutions at TE Connectivity, continued his discussion on autonomous driving with Connected World's Tyler Kern. In this second episode, the conversation shifted to the human side of autonomous driving and people's trust issues with AI.
And, as with Klaedtke and Kern's earlier conversation, safety is the leading concern for people when it comes to adopting this important technology. Klaedtke saw adoption occurring first in cities with robo taxis and driver-less buses before moving out into less populated areas. Ironing out safety issues and cost aspects are still two challenges that need to be addressed before expecting this type of autonomy to be reached.
Trust and comfort levels of people and autonomous vehicles vary by age, population, and where one comes from in the world. "We see an openness for technology in the Asian Pacific group where people adapt much faster to new technologies," Klaedtke said. "People in general, I think 70% of people in surveys say that technology is making the world a better place. But when it comes to autonomous driving, more than 60% don't trust it."
The solution to this problem? Klaedtke believes it's up to people to create operationally safe environments for autonomous vehicles to gain human trust in this technology.
Another hurdle is the state of AI. Is it ready to meet the demands people expect from autonomous driving? Klaedtke wasn't so sure it was. "AI is great at analysis of images, of pictures of objects, of calculating distances, and to try have high processing times so we can operate safely," Klaedtke said. "It's great at that. But it has to be trained for all kinds of scenarios." Currently, the human brain can deal with unforeseen scenarios that AI cannot. Learn more on TE.com: https://bit.ly/te-autonomous-vehicles
Latest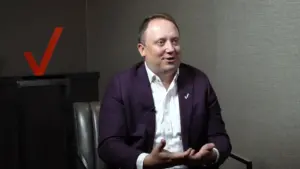 December 1, 2023
For a special episode of The Verizon Partner Network the focus was on the considerable role of partnerships in the Verizon Partner Program and the leaders shared their perspectives on the initiative. Their conversation brought about a lot of thought-providing context on the evolving telecommunications landscape. In today's era, collaboration and integration are key to […]
Read More