Hospitals Need to Limit 60-Day Readmissions As They Face Capacity Issues
Acute care hospitals are currently grappling with the challenge of discharging patients promptly while facing capacity constraints and staffing issues, exacerbated by the flu season and a surge in RSV cases among both children and adults. In this episode of What the Home Health, join host Kevin Stevenson as he sheds light on the crucial issue of readmission rates in acute care hospitals. Discover the strategies employed by hospitals to ensure patients receive appropriate post-acute care, adhere to physician orders, and minimize the likelihood of readmission within the critical 30-day window.
Main Points of Conversation:
Capacity constraints and timely discharges: Gain insights into the pressing need for acute care hospitals to efficiently move patients through the system amidst staffing challenges and increasing patient admissions. Explore the strategies employed to optimize bed availability and improve overall throughput.
The significance of readmission rates: Understand how acute care hospitals are evaluated based on their 30-day readmission rates and the impact of these metrics on quality of care and hospital performance. Explore the multifaceted approaches implemented to reduce readmissions and enhance patient outcomes.
Ensuring post-acute care and physician compliance: Discover the comprehensive efforts hospitals undertake to educate patients, facilitate appropriate transitions to post-acute settings (such as inpatient rehab, skilled nursing, or home health), and ensure patients follow physician orders for long-term management of chronic or acute illnesses.
Guest Bio:
Kevin Stevenson, a seasoned industry expert in healthcare management, brings a wealth of experience and knowledge to the discussion. With a deep understanding of the challenges faced by acute care hospitals, Kevin shares valuable insights and strategies for optimizing patient care, throughput, and readmission rates.
Latest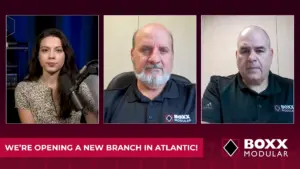 December 4, 2023
In an era where construction innovation is reshaping the industry, modular construction's growth continues to rise. In this episode of Built Modular, Boxx Modular's strategic expansion into Moncton, Atlantic Canada takes center stage. Host Gabrielle Bejarano welcomes Charles Landry and Ray Girouard to explore the implications of this venture. Bejarano, Landry, and Girouard discuss […]
Read More