Quick Look: 5 Trends to Watch for at NAB 2023
The National Association of Broadcasters (NAB) Show is a premier event that unites professionals from the AV, IT, and broadcast industries to showcase the latest innovations, technologies, and trends. As we approach this year's event, let's examine the top five trends that are expected to make a splash in these converging industries.
Remote Production and Cloud-Based Solutions
The ongoing demand for remote production and cloud-based solutions has accelerated at breakneck speeds. At NAB, we can expect to see new technologies and services that cater to the growing demand for flexible, scalable, and cost-effective remote production tools. This includes advanced collaboration platforms, live streaming solutions, and cloud-based video editing tools, enabling professionals to work seamlessly from any location while maintaining high-quality output.
5G and Enhanced Connectivity
The rollout of 5G networks promises to revolutionize the AV, IT, and broadcast industries with faster speeds, lower latency, and increased capacity. At NAB, we can expect to see companies showcasing the potential of 5G in various applications, such as live event streaming, VR experiences, and smart device solutions. Additionally, attendees should keep an eye out for new products and services that leverage 5G to deliver seamless, high-quality content across different platforms and devices.
Artificial Intelligence and Machine Learning
Artificial intelligence (AI) and machine learning (ML) technologies continue to advance rapidly and are increasingly being integrated into AV, IT, and broadcast solutions. NAB attendees should watch for demonstrations of AI-driven tools for video analysis, automated content creation, and audience targeting. These technologies have the potential to streamline workflows, enhance content personalization, and improve overall efficiency in the industry.
IP-based Workflows and Infrastructure
IP based workflows and infrastructure continue to gain momentum in the AV, IT, and broadcast industries. At NAB, attendees can expect to see the latest advancements in IP-based technologies, which enable more efficient and scalable content production, distribution, and management. This will include cutting-edge IP-based cameras, switchers, routers, and other hardware, as well as innovative software solutions for managing IP-based workflows in both live and post-production environments.
Cybersecurity and Data Privacy
As the AV, IT, and broadcast industries become increasingly interconnected, the importance of cybersecurity and data privacy cannot be overstated. At NAB, attendees should pay close attention to the latest developments in cybersecurity solutions, such as advanced encryption tools, secure communication protocols, and robust remote access controls. Additionally, be sure to watch for companies that will be showcasing best practices and strategies for ensuring data privacy and compliance with ever-evolving regulations.
—
The NAB Show is an invaluable opportunity for professionals in the AV, IT, and broadcast industries to stay up-to-date with the latest trends and technologies shaping their respective fields. By keeping an eye on these five trends, attendees can gain insights into the future of their industries and identify new opportunities for growth and innovation.
For the latest in Pro AV and Integrated Technology, be sure to check out Pro AV Today.
Latest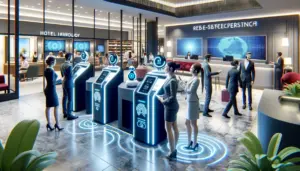 December 8, 2023
Facing critical staffing shortages, over 80% of hotels struggle to fill positions despite offering higher wages and flexible hours, as reported by a recent American Hotel & Lodging Association survey. While slightly improved since May 2022, this situation highlights a significant challenge in the hospitality industry, with housekeeping roles being the most urgently needed. […]
Read More