Bringing Immersive and Narrative Experiences to Life with Sound
Music and sound are integral parts of crafting an immersive experience, and Stephen Thomas Cavit, Composer and Principal for Iconic Music, Design & Consulting knows a thing or two about leveraging those tools.
He's engineered sound and music for a variety of themed properties, from Alien Versus Predator at Universal Studios Japan and Hollywood to Fox's Ice Age, has scored numerous films that have screened at the Sundance Film Festival, and much more.
Cavit joined host Bryan Meszaros for this episode of the Experience by Design podcast, presented by MarketScale, where the two dove into this musical background and explored how Cavit uses music and sound to continue to wow people across the world.
Today's spaces and experiences are evolving quickly, and that means that music and sound need to progress alongside them. These elements of an experience, particularly in the case of music, are now being designed for particular spaces.
"Now, with the technology that Iconic works with, we can put sounds anywhere in a 3D spectrum," Cavit said. "We can recreate, very convincingly, a world we're already familiar with. But the other thing is, we can create brand-new worlds. And that has kind of limitless storytelling potential."
That has implications beyond narrative, as well, with Cavit saying he expects a fundamental shift in the way we experience sound within the next decade or so and that sound design will continue to have implications for branding, advertising and more.
Join host Bryan Meszaros on Experience by Design every other Wednesday as he explores the latest trends and solutions helping craft the world's most intriguing experiences.

Latest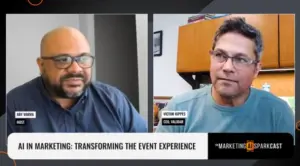 November 28, 2023
AI has been gradually changing the landscape of event technology at a very rapid pace. In an industry where staying ahead of technological trends is crucial, AI's impact on marketing and event management has become increasingly significant. As witnessed in the rise of account-based marketing and enhanced personalization, AI is effectively reshaping how events […]
Read More