DSF Announces Election Results
New and Re-elected Board Members to serve a two-year term starting January 2023
(Warrenton, VA) After a four-week election for At-Large Board seats the Digital Signage Federation is proud to announce the final tallies of the 2022 election cycle. A total of six seats were open for candidates to fill. More than 60 members cast ballots in this year's election.
Winning re-election to the board for another two-year cycle are
Dominic DiSieno – Wells Fargo
Kym Frank – Motionworks International
Beth Warren – Creative Realities
Winning election to a new two-year term on the board are
Jonathan Brawn – Brawn Consulting
Michelle Montazeri – Legrand
Megan Zeller – Peerless AV
With the results, the DSF Board will seat the highest number of female board members in years, with Michelle Montazeri of Legrand, and Megan Zeller of Peerless AV joining members Kirsten Roubie of ELO Touch, Kym Frank of Motionworks, and Beth Warren of Creative Realities as At-Large members.
"I'd like to thank all the candidates who ran during this election cycle and all those who voted," said Len Dudis, DSF Board Chairman. "It shows just how much our members want to help the organization powerup the ecosystem for continued growth as we continue to emerge from the pandemic and its impact to our industry."
The full board will be gathering with members in Louisville, Kentucky on February 15th for the first DSF Meet 'n Mingle of 2023. The event will feature panel discussions, tabletops featuring products and information from Advisory Council Members and a tour of the Museum at Churchill Downs. Details may be found on the DSF website at https://www.digitalsignagefederation.org/event/louisville-meet-n-mingle/  .
###
Latest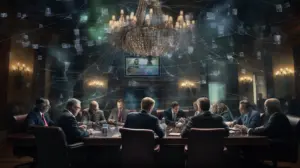 October 3, 2023
In August 2023, the National Institute of Standards of Technology (NIST) put out a request for comments on the Preliminary Update from the Internet of Things Federal Working Group (IoTFWG), which aims to provide the nation direction on how to improve IoT adoption and expand its use cases for the future of industrial, corporate, […]
Read More