Electrosonic Completes Construction on New Dubai Production Facility and Regional Hub
London – December 8th, 2020 – Electrosonic, a leading international Audiovisual and Technology Services Company, has just completed planning and construction for its brand-new production facility and regional hub in Dubai, UAE, to provide direct and enhanced local support to clients in the Middle East.
The company is a leading global provider of technology solutions for many business sectors, including, financial and professional business services, entertainment – theme parks, museums, visitor centers, gaming and hospitality, technology and media, energy and utilities.
The new facility in Dubai is a strategic move and reflects Electrosonic's increased commitment to the region. It builds on more than 14 years' experience in the Middle East, where Electrosonic has been involved in designing, building, and supporting some of the most important award-winning projects in the region, including the world's largest indoor theme park at Warner Brothers' World Abu Dhabi, Ferrari World, corporate campus rollouts for numerous fortune 500 companies and the world's largest museum complex at the Sheikh Abdullah al Salem Cultural Centre.
The new production site forms an important regional hub for the Middle East. Electrosonic will no longer have to rely on production from the EMEA-UK facility, providing a faster, more responsive service to local clients and reduce time to project execution.
The Dubai facility is comparable in size to the company's substantial production units in the UK and USA, providing Electrosonic with the capacity to handle large-scale projects in the region with local resources. Excitingly, the new facility is up and running from its outset, already completing the first system build for one of the Expo 2020's most technologically advanced pavilion sites. The new facility will serve as an expansion hub to the region. Over the last ten years, the demand for forward-thinking and creative technology solutions has in fact only increased.
Electrosonic already has a core resident team in Dubai with extensive experience in the region and plans to bring in more talent as part of an ambitious program to double permanent staff numbers. Paul Kent, Regional Director, Middle East, and Africa, said, "Dubai is at the heart of a dynamic growth region where so many exciting projects are underway. We want our clients in the Middle East to have the benefit of direct, local access to some of the most talented and creative people in the business."
The Electrosonic team will continue to work with local contractors and vendors, creating a more robust integration with the local supply chain and providing a valuable economic boost to the region as the facility and the business scale up.
A local presence also gives Electrosonic a greener footprint – an essential consideration for LEED certification projects. The supply chain is much shorter, and travel will be reduced.
The combination of local Electrosonic expertise and an ecosystem of trusted supply chain partners and contractors means the company can provide a seamless end-to-end service for Middle East clients with the confidence that the people providing the service are best in class.
Chief Executive Officer Jon Hancock said, "I am excited to see us being more strategic in a region where we have been present for many years. Now to have our own fully equipped permanent production facility is a great step forward that builds on our flagship projects in the region."
The Dubai production facility is the first stage in a more extensive program to create a single source for designing, building, and supporting great experiences in the region. The next phase will see the addition of a design studio so that Electrosonic's multi-skilled teams can work as a single unit.
About Electrosonic
Electrosonic is an international audiovisual and technology services company that designs, builds, and supports innovative technology solutions that create lasting experiences where people live, work, and play. Founded in 1964, Electrosonic has been recognized for its superior and unsurpassed Technology Master Planning™ and System Integration services. With unique global capability, we deliver highly complex world-class projects across many sectors, including financial services, professional business, entertainment – theme parks, museums and visitor centers, gaming and hospitality, technology and media, energy and utilities. Electrosonic provides a comprehensive scope of technical and professional services with expertise in ICT and Network Infrastructure, Security, Surveillance and Access Control, Audio, Video and Control Systems, and Acoustics. Electrosonic is where imagination comes to life™.
Media contact: Maurizio Capuzzo
maurizio.capuzzo@electrosonic.com
+1 818 333 7685
Latest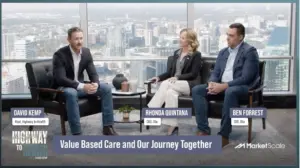 December 7, 2023
As of recent times, the healthcare industry has been progressively shifting towards value-based care, a model that emphasizes patient outcomes over the quantity of services delivered. This transition represents a significant shift that promises to enhance patient experiences and outcomes while controlling healthcare costs. With a growing emphasis on this approach, especially over the […]
Read More