How AV Solutions Manufacturers Can Play into a Democratization of Consistent Content Creators
A new study from Shure & Futuresource reveal nearly 40% of people identify as content creators, producing consistent gaming, video, audio, and music content. Content consumption has grown throughout the pandemic, creating the demand for more creators to bring new and fresh ideas to the public sphere.
This shift in content creation and consumption placed an emphasis on content that is organic, nimble, and authentic. Many content creators made due with the equipment that they already had readily available, such as cell phones and web cams. However, as time has gone on the question for many creators has become whether or not to invest in more professional equipment or continue on with the current status quo.
This question has create a new space in the market for AV solutions manufacturers to cater to a growing and influential market. MarketScale turned to Bryan Meszaros, Host of Experience by Design, to learn how AV solutions manufacturers can play into a democratization of consistent content creators with new product development for a prosumer audience.
Latest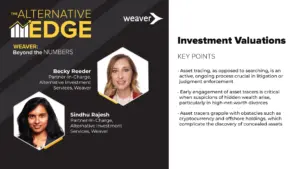 December 4, 2023
In this episode of The Alternative Edge, a Weaver: Beyond the Numbers Podcast, host Becky Reeder, an audit partner and co-leader of the alternative investments practice at Weaver, engages with Sindhu Rajesh, an Alternative Investment Services Partner with Weaver. They unpack the complexities of venture fund valuations, offering critical insights into industry dynamics and best […]
Read More