How Digital Experiences Will Change in a Post-Pandemic World
Whether you're an integrator, a designer or simply a label-defying creative, the experience is everything. Host Bryan Meszaros explores the stories behind exhibits to understand how a carefully crafted experience connects people to place.
As the CEO of Beaver Trison, Peter Critchley specializes in creating technical digital experiences that drive traffic and leave memorable impressions on customers. He joins podcast host Bryan Meszaros on this episode of Experience by Design to push digitally-created experiences into the modern era.
Just like every other industry, the technical digital industry is rapidly changing in today's pandemic-impacted world. An effective use of digital experiences is one that's intentional — rather than one that exists just to exist, as it has in the past.
"It's not just a standalone anymore," said Critchley. "What we do, it needs to integrate with the sales channels, the stock channels, the social channels. It needs to be an integrated part of the fabric of the business and the building."
If you don't have a plan in place for your digital display, he continued, it'll be "a lame duck as soon as it's installed."
This can be seen in consumer engagement with brands today, in a world that has been transformed by the coronavirus pandemic. Almost immediately after the virus hit, consumer behavior shifted to digital and online.
However, Critchley observed that the brands weathering the economic impact of the pandemic are the ones that can effectively leverage memorable customer experiences. "The brands that really have a clear identity and know how to engage with consumers before, during, and after the experience… are experiencing significant uplifts."
Join host Bryan Meszaros on Experience by Design every other Wednesday as he explores the latest trends and solutions helping craft the world's most intriguing experiences.
Latest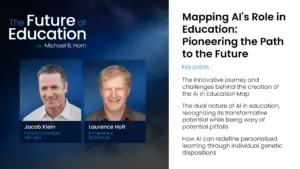 October 2, 2023
Mapping AI's role in education should be a critical step in bringing together innovative technology-based solutions with the expertise of human educators. With rapid advancements in artificial intelligence and an increased reliance on technology-driven educational solutions, the education landscape is on the brink of a significant transformation. AI promises highly personalized learning experiences, efficient administrative […]
Read More