How Software-based Conferencing is Revolutionizing Industries
Keypoints:
The popularity of Zoom exploded during the pandemic.
Many companies adopted software-based conferencing during the pandemic.
Many companies previously used Cisco or Polycom.
Commentary:
The popularity of Zoom exploded during the pandemic, creating a new awareness for having multiple ways of connecting to keep things moving. We sat down with Jesse Miller, the General Manager of Midtown Video at this year's InfoComm, to share why making the shift to software-based conferencing is revolutionizing industries. Jessie also shared how his company is actively adjusting operations and allocating people for the challenges this year is brought on.
Abridged Thoughts:
Yeah, and in a way, it's related to the pandemic because Zoom rocketed to popularity and ubiquity, right, and teams had to catch up. Microsoft couldn't be left behind. So and of course, Webex, which was already around, became more and more popular. So we really saw a shift from the hardware codec-based room to the bring your own device.
I need to be ready for any software conferencing product, but I still need exceptional quality sound and video. So that shift has led to a lot of great work that we're very thankful for the shift. We definitely want to make those adjustments. We are actively seeking AV specialists, guys that can install guys that can perform service calls. Certainly, our clients are looking not to just be sold a room, but to be guided through their AV experience, and the clients that stick with us for a long time share that it's so important that when we call someone answers and that we have this personal relationship. We can do that to the degree that we can do that. But one thing that is for certain at Midtown video, every person is working at about 110% capacity.
More Stories Like This:
Latest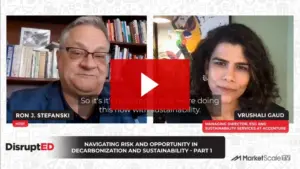 September 26, 2023
The global conversation has shifted dramatically towards decarbonization and sustainability in recent years. With the world experiencing unprecedented levels of disruption, from 5G technology to the challenges of a pandemic, the urgency to address climate change and its implications has never been more palpable. Although most business leaders see the vision of Sustainable Development […]
Read More