IHSE: KVM technology in the context of film and content creation.
When editing hundreds of sounds across Pro Tools, and often across multiple instances of Pro Tools, having efficient switching does wonder for a quality, frictionless edit. On today's episode of Direct Connection, an IHSE podcast, host Daniel Litwin sits down with Dennis Sands, Head Scoring and Re-Recording Mixer at Sound Waves SB, a mixing and engineering studio out of Santa Barbara, CA. The two dive into KVM technology in the context of film and content creation.
With over 40 years of experience, including the work of 350 films with leading composers like Alan Silvestri, Danny Elfman, John Williams, and Hans Zimmer, as well as receiving 4 Academy Award Nominations for his work on Polar Express, Cast Away, Contact, and Forrest Gump, Sands offers endless industry knowledge and workflows.
Sands started off in the record world, working with many reputable artists at a fairly young age. However, things changed for Sands when he met and partnered with an engineer, with who he later opened a recording studio within Hollywood. This is where he made the transition into working on television and film projects.
"As time went on technology expanded greatly in good and challenging ways," Sands explained, " I've evolved into what was originally an all-analog world into an all Digital world and as a result, I've transitioned into working with digital work station, in particular with pro tools."
However, working with all these systems at once became challenging for Sands, as they were at different alignments, and performed different functions in the process of creating a final music mix. This caused a lot of stops in his work, interrupting workflow significantly.
"I reached out to an equipment vendor with which I do a lot of business with and he said 'look there is another system that's vastly superior,'" Sands noted.
It was here that he was introduced to the IHSE Draco system. "It's such a refreshing way to work it's completely reliable and is almost invisible in my workflow which is a great compliment to the structure and engineering and design systems."
Tune in to hear more about Dennis' Sands journey with KVM technology as used in film and content creation.
Latest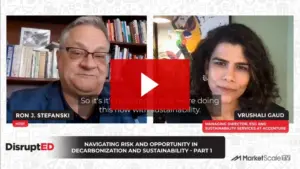 September 26, 2023
The global conversation has shifted dramatically towards decarbonization and sustainability in recent years. With the world experiencing unprecedented levels of disruption, from 5G technology to the challenges of a pandemic, the urgency to address climate change and its implications has never been more palpable. Although most business leaders see the vision of Sustainable Development […]
Read More