InfoComm 2023: Software Promises To Be the New Competitive Edge for AV Vendors
The Pro AV industry is gearing up for its most anticipated show of the year, InfoComm 2023, which promises to shine a spotlight on some of the most important trends, technologies, thought leaders and challenges shaping everything from digital conferencing and digital signage, to enterprise IT and workforce training.
While new LED screen integrations are sure to dazzle, the tech under the hood may drive even more intrigue this year. The AVIXA team behind InfoComm 2023 is putting a key focus on software-focused sessions that promise to enrich attendees' knowledge and skills of changes in the software layer of the AV industry. Educational sessions, for example, on future-proofing CMS software for rapidly evolving content types and presentation, refining use of remote collaboration and production software to enhance remote meetings and conferencing, integrating software-based digital signal processors to simplify AV workflows, and the intersections between multi-streaming event platforms and cybersecurity needs for next-gen live events are just a few of the ways InfoComm 2023 is prioritizing conversations around software this year.
Dan Gundry, Senior Director of US LVX Sales for Barco and host of NOC Your SOCs Off, as well as Izzi Demara, Marketing Manager at RoomReady, give their perspectives on what will end up as the most important conversations at this year's show, and why they also sees software as the competitive edge that will crown the AV top dogs at InfoComm 2023.
Dan's Thoughts
"InfoComm 2023 is going to be all about software, software, software and security, security, security. So vendors that start to differentiate themselves on hardware over the years are going to start to differentiate themselves on the software that supports their hardware. Those platforms, those ecosystems and how they play, work well with others is going to be critical. And I'll be looking very forward to seeing the different levels of machine learning, AI, monitoring, diagnostics, self-healing and all of the different attributes that go into software at this year's show. And also security, upon which our hardware and our software is built. That should be first and foremost on integrators' mind, end-users' minds, consultants' mind when they're walking and talking around to all the manufacturers that are out there. As we move into an IoT and a smart cities world, security and how our products are built and how our products are hardened and secured will be of critical importance."
Izzi's Thoughts
"I think that this year at InfoComm, we're gonna hear a lot about AI, AI, and more AI. I think hardware has kind of had its day. We've really made some progress. We've got excellent cameras, excellent speakers, microphones, anything that we need, and now it's gonna be all about software. I think that as, you know, ChatGPT has come into the mix and kind of shaken things up, I think we're gonna see a lot more AI incorporated into AV. I think we're already seeing some of that with people framing, with noise blocking technology. All of that stuff is software, and I think we're gonna see that continue to take center stage this year at InfoComm, and I'm excited to see what happens. I think at InfoComm this year, there's gonna be a lot about software, and I think the line between AV and IT is gonna get a bit more blurry. I think that hardware has had its day. We've made some awesome strides, and our cameras, our microphones, are everything, so I think that this year software is gonna take center stage, and we're gonna be seeing a lot more of a shift from hardware to software, more AV over IP solutions, and I'm excited to see what happens."
Latest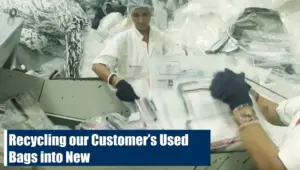 December 6, 2023
This video focuses on EcoLOK4, a groundbreaking product by CONTROLTEK that exemplifies innovation in sustainability. It highlights the process of transforming landfill waste into new deposit bags, with 90% of each bag's material being repurposed trash. This initiative not only reduces waste but also closes the sustainability loop, demonstrating CONTROLTEK's commitment to environmentally friendly […]
Read More