Let's Talk About AV as a Service
—
AVaaS, or AV as a Service, is the future of the audio visual industry. However, the conversation around this shift has been an awkward one, and it's time to call out the elephant in the room. The industry has largely excluded the end user and buyer communities from this conversation, but it's important to remember that there's no shame in publicly admitting that AVaaS is the future.
The reason for this shift is simple: the need for recurring revenue, longer product lifecycles, rapid technological advancement, and long-term support needs. These are all places where the end user and buyer communities need guidance and direction. As an industry, it's our responsibility to provide this guidance and create value for our clients.
One way to do this is through guidance, advice, and support. This can include providing software and firmware updates, as well as gear replacement. Additionally, many companies are now offering remote monitoring and management services to ensure that their clients' systems are always up to date and running smoothly.
Another way to create value for clients is through offering flexible pricing models. Instead of requiring customers to purchase equipment outright, many companies are now offering subscription-based services. This allows customers to pay for only what they need, and easily scale up or down as their needs change.
Finally, it's also important to remember that AVaaS is not just about selling equipment, it's also about selling an experience. As an industry, we need to work to understand our customers' needs and tailor our services to meet those needs. By doing so, we can ensure that our customers are getting the most out of their AV systems and are able to use them to their fullest potential.
Overall, the shift to AVaaS is a positive one for the industry. It allows us to better serve our end user and customer communities by providing guidance, support, and value. It's time for the industry to publicly embrace this shift and work together to create a better experience for our customers.
Latest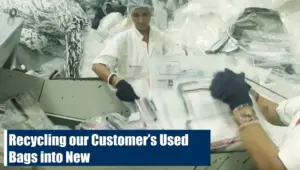 December 6, 2023
This video focuses on EcoLOK4, a groundbreaking product by CONTROLTEK that exemplifies innovation in sustainability. It highlights the process of transforming landfill waste into new deposit bags, with 90% of each bag's material being repurposed trash. This initiative not only reduces waste but also closes the sustainability loop, demonstrating CONTROLTEK's commitment to environmentally friendly […]
Read More