Recap from Day 2 of InfoComm 2022
Find Out What's New at Nanolumens
There is always something new and exciting taking place at Nanolumens! We visited their booth at InfoComm 2022 to get the latest on their new products and offerings from Marketing Director Carolyn Hayes.
Insights:
Hey everybody. I'm Carolyn Hayes, marketing director for Nanolumens and we are so excited to be here. InfoComm 22! We welcome you to our booth. We are at N2963. And if you come in, we'd love to show you all of our new and existing products.
Here, you see this big tunnel. It's definitely an eye-grabber. That is our patented curved Nixel. You'll see, as you walk around here, a lot of the curved displays are faceted. This is not, this is a bendable Nixle. It's very unique and we welcome you to come see it. We have a new mesh product. It's called CLRVision and it's a partner to our CLRVU, which is a recent addition to our displays.
Of course, we've got our All-In-One, come see that. We've got our Engage and then we've also got a market standard product. So any project size we can help you. So we do very custom to very basic. So come on and visit us. And we, you know what, we're also doing some presentations at 1:30pm on Wednesday and Thursday.
Kurt will be talking about our new services. So come see that we teach talks about services from front to end of the buying process. We're talking about our our custom design process, which is really interesting. Thursday, 10:00 o'clock. And then we also have Bryce McPheeters who's talking about our new product roadmap.
So you get to see what's on the horizon. So anyway, thanks everybody. And I'll see you when you come by!
---
Checking in With Contemporary Research at InfoComm 2022
Contemporary Research has been a leading manufacturer of video distribution and display control solutions for over 25 years. You can find them at InfoComm 2022 at booth N2205. MarketScale caught up with Alex Rizzo, Regional Sales Manager at Contemporary Research, to learn more about the solutions they brought to the show this year.
Insights:
Hey you guys, Alex Rizzo with Contemporary Research here at Infocom 2022 in Las Vegas. Here, we got some pretty exciting products that we're showcasing, including our modulators and encoders. What we're looking at here is our QMOD-HDMI RGB, comes in many different flavors, inputting two sources and outputting either over co-ax or IPTV systems.
One of the neat things about this is we also offer emergency alert systems and emergency alert system accessories, such as our brand new light alert bar. If you ever have any questions, look us up at contemporaryresearch.com.
---
Thursday at InfoComm 2022!
Kick-off Day 2 of InfoComm the right way with the Morning Show from AVIXA TV! It's all broadcasting live right here on MarketScale.
Join hosts Ben Thomas and Samantha Powell for the Morning Show and the Noon Show, and all-day coverage from the Technology Innovation Stage. You don't want to miss a minute of the action at Pro AV's biggest show!
(All times are PT)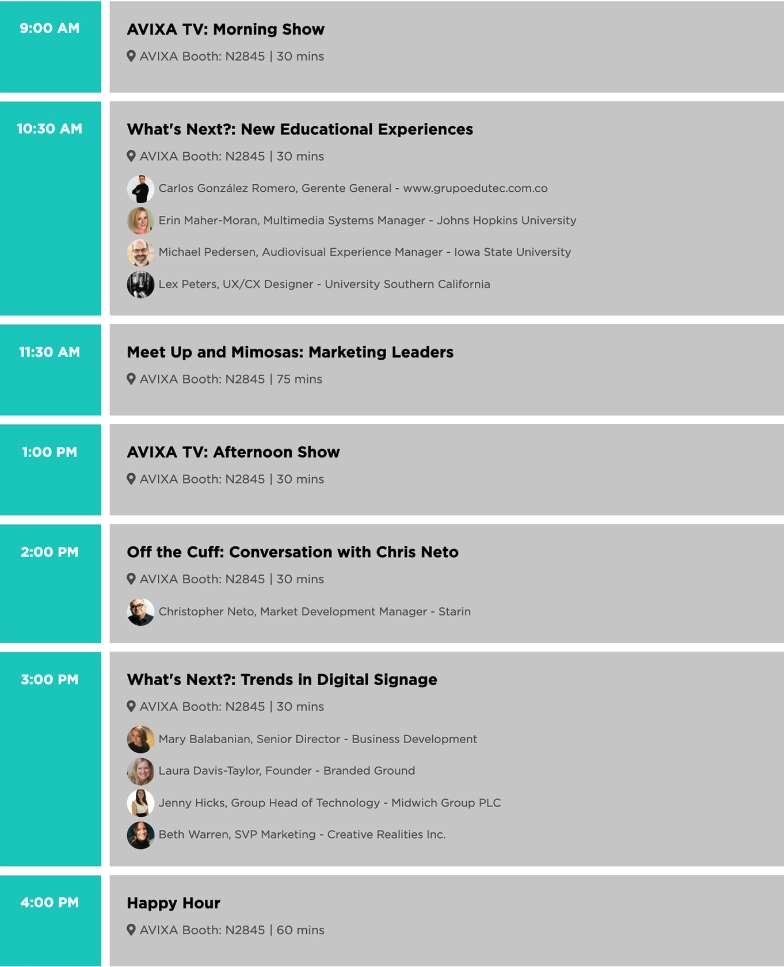 MarketScale's very own Ben Thomas checked in with us from the AVIXA booth yesterday to remind everyone to tune in throughout the day to stay up to date with the latest.
Stay locked into MarketScale for continuing coverage of the show!
Latest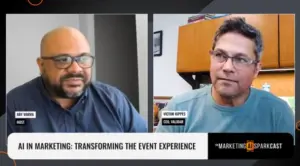 November 28, 2023
AI has been gradually changing the landscape of event technology at a very rapid pace. In an industry where staying ahead of technological trends is crucial, AI's impact on marketing and event management has become increasingly significant. As witnessed in the rise of account-based marketing and enhanced personalization, AI is effectively reshaping how events […]
Read More