Remote Work Made Microsoft Teams a Household Name. It Also Forced the Software to Adapt.
Commentary:
The pandemic's mass shift of office work to remote and hybrid workflows was the perfect storm for remote collaboration tools to find new user bases, engage already active users, and test new features that would define the future of work. Unsurprisingly, Microsoft Teams, with its Office integrations and free-to-use chat features, absorbed a lot of this market growth.
In July, the company boasted a new milestone of 250 million active users, and most recently during its FY22 Q1 announcement, found large organizations were all-in on Teams use; more than 3000 organizations have more than 10,000 users, and among that group, integration of Teams with other third-party business apps rose 82% year-over-year.
How has this validation of virtual & cloud collaboration impacted Microsoft Teams' products and approach to bringing solutions to market? The MarketScale team had the pleasure of sourcing Mehryn Corrigan, an Incubation Sales Executive for Microsoft Teams Rooms, at InfoComm 2021; we picked her brain on the biggest updates to Teams over the last year, and how she sees the larger ecosystem of technologies at InfoComm supporting Teams and the future of work.
Abridged Thoughts:
We've got all kinds of research and studies, but it's all about the future of work. I mean, there's so much really that people don't know yet. Like of what's going to happen in the next couple of years. And that's OK. I think it's giving yourself the flexibility and the tools to figure that out along the way. So I think, you know, hybrid is obviously the word that people are throwing around a lot. You know, having equity of experience no matter where you are. So it used to be most people were in the office and one person would be maybe remote and you'd be staring into that black little box on the table and just, you know, you couldn't even see their face half the time. They couldn't see what you guys were working on in the room, right? And now it's kind of a flip like the person on the opposite end that's from home has access to their tools right there. They're not anonymized. They've got their own screen they can share. They can do everything that they need to do from home. So it's been a huge shift, like you had said of paradigms.
More Stories Like This:
Latest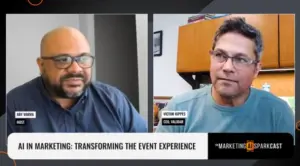 November 28, 2023
AI has been gradually changing the landscape of event technology at a very rapid pace. In an industry where staying ahead of technological trends is crucial, AI's impact on marketing and event management has become increasingly significant. As witnessed in the rise of account-based marketing and enhanced personalization, AI is effectively reshaping how events […]
Read More