Should AV Marketers Treat Content Creators as Prosumers or Professionals?
Key Points:
40% of people worldwide identify as content creators according to Shure and Futuresource.
40 million people are creating audio-only content like podcasts or music.
Creators are looking for the right gear at the right price to support their growing passions; 65% expect to spend more time on their content in the next year.
Commentary:
AV marketers have been asking themselves, have there ever been this many content creators in the world? A convergence of different platforms, lower barriers to entry, and affordable high-powered gear is giving people an unrivaled opportunity to create audio, video, and interactive content, and the numbers reflect it. A recent Shure and Futuresource study found two in five people identify as content creators of "podcasts, music, streaming, and gaming," with 40 million specifically creating audio-focused content.
The connection to gear bares out in the numbers, too. Close to half of creators surveyed invested in new audio equipment over the last year to improve the quality of their content, and for good reason, as 65% of respondents signaled an expected increase in their creator workload.
Besides an affordable price, what is motivating creators' gear investments? And how are companies with a stake in supporting creators, whether through their platform or their equipment, supporting and capitalizing on this growth in the market? Daniel Litwin spoke with Laura Davidson, Market Development Manager at Shure Incorporated, explained how Shure's partnerships with AV marketers and platforms like OBS Studio have kept the company's ear to the ground on creators' needs, and how that's borne out in their product development.
Abridged Thoughts:
If you're anything like two in five people in the world, you might find yourself identifying as a content creator. And if you've gone to record your podcast or live stream or game, you may have found yourself struggling with technology, whether it be audio, video, lighting or more. So, with this emerging trend of content creation, we've found that it's an opportunity for Shure to provide thought leadership for those who are out there actively creating content and remove those barriers so that you can have the best experience when you're ready to go live or hit record and take the technological barriers out of the way. So specifically, our Shure line of MOTIV™ microphones allow you to plug and play directly into your device or your computer so that you can get great sounding audio no matter where you are. There's also a software element to this as well.
Latest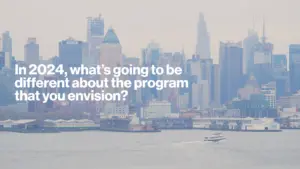 December 1, 2023
In the dynamic telecommunications landscape, Verizon's Partner Network continues to evolve, adapting to new trends and opportunities. For another segment featuring Mark Tina, VP of Indirect Channel Distribution and Channel Chief at Verizon Business Group, he explores exactly what types of significant changes and advancements the Verizon Partner Network will see in 2024. In this […]
Read More