Swiping and Shopping: The Rise of the Digital Kiosk
Customer service has historically been associated with an employee aiding a shopper in need. Traditionally this has been a human-to-human interaction that keeps consumers informed and can directly lead to a sale.
Today, customer service is yet another area where technology is changing the shopping experience. Kiosks in particular are allowing shoppers not to seek out employees but find all relevant information in one manageable area.
These digital platforms are not limited to the retail world though. Restaurants, banks, theaters, hotels, and even taxi services are implementing this innovation to streamline their services.
Retailers have traditionally implemented these kiosks to help customers find items, check prices and navigate the store.
Find out more about the @SamsungCanada Flip Digital Interactive Display + SHOP and SAVE today: https://t.co/IzwxkFzdX2 #Canada #Business pic.twitter.com/eX0zEbTCJV

— DirectDial.com (@DirectDialcom) October 11, 2018
Grocers were among the first to use digitally interactive devices, most notably in self-checkout areas.
#trendhunter – Digitally Interactive POS Displays https://t.co/IfudufosD3 #Marketing pic.twitter.com/hnmBJNaexa

— 🅟🅐🅞🅛🅐 🅒🅐🅟🅞🅓🅐🅒🅠🅤🅐 (@paolettacapo) October 3, 2018
Cities are replacing traditional maps with interactive displays. This way, tourists and travelers can find restaurants, public transportation and entertainment venues quicker and with more precision.
https://twitter.com/suj_citystudies/status/1050438846448525312
.@louisvillemayor checking out the new digital kiosk downtown. It's one of several info centers located around the city. pic.twitter.com/Vy43Sl34Mv

— Emily Maher (@EmilyMaherTV) April 18, 2018
The ATM was a revolutionary invention when it made its debut. Now banks seem to be on the precipice of allowing customers to open accounts from digital touch screens.
Shri Gopal Krishan Agarwal, Director, Bank of Baroda visiting the #UPInvestorsSummit2018 and interacting with state of the art Account Opening Kiosk. Bank's small step towards digital revolution. #UPforBusiness #BankofBaroda #DigitalBanking #InclusiveBanking pic.twitter.com/vEpfRv7urn

— Bank of Baroda (@bankofbaroda) February 22, 2018
In Dubai, employees of the Dubai Taxi Corporation are able to connect to a kiosk through a smartphone app that allows them to apply for time off, report incidents, check insurance details and more.
Dubai Taxi launched Digital Kiosk to boost smart services for cabbies. For more details, visit: https://t.co/OuTQlDLinJ pic.twitter.com/W9cJWeLoQL

— RTA (@rta_dubai) December 29, 2017
Fast food giant McDonald's has been a pioneer of the smart-kiosk boom. The fast food giants has rolled out digital ordering services to keep wait time down. Kiosks also allow customers to personalize orders down to the condiment.
https://twitter.com/papascott/status/954288072170057730
Hotel guests are often tired after a long day of travel. Instead of waiting to check in at a front desk, hotels are implementing self check-in kiosks to streamline this sometimes tedious process.
Get Ready to Check-in and Check-out with Touch Screen #Kiosk! Check here – https://t.co/DpYoIoqSa2#Hospitality #hoteltechnology pic.twitter.com/i1VqX0cZka

— Ariane Systems (@Ariane_Systems) April 13, 2017
Digital kiosks in the retail space are not only for wayfinding and customer service. With digital and interactive displays, consumers are able to learn valuable information on products.
Fab piece of retail tech from Samsung.
This sliding, transparent, digital touch screen is simple enough to actually engage customers.
Currently thinking of applications for this.#Retail #RetailTech #CustomerExperience #design pic.twitter.com/NnbO8Dy2ZT

— Space 11 (@Space11eleven) August 31, 2018
Designing the retail store of the future, with holographic displays and touch-screen mirrors #design #Retail https://t.co/KsmOEiCVAu pic.twitter.com/qlJGXxLGDI

— True Staging (@truestagingltd) April 24, 2017
There is still value to human interaction when making a purchase of any kind. Personal and customer-centric insight can leave a shopper with a pleasant experience and meaningful insight. For customers who need to get answers quickly though, kiosks will continue to grow in popularity.
Latest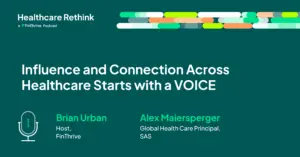 September 29, 2023
In the latest episode of the Healthcare Rethink podcast, presented by FinThrive, host Brian Urban sits down with Alex Maiersperger, the Global Principal Healthcare at SAS. Their conversation charts the role voice plays in influencing and connecting the healthcare industry. Maiersperger, who co-founded the Advancement League, shares his journey from being a healthcare optimist to […]
Read More