The Install: A MarketScale Pro AV Original Series
Businesses around the country are investing in audiovisual technology to bring their brands to life. From Times Square to the bright lights of Las Vegas, we're getting an inside look into what makes these projects must-see attractions.
We begin in Bradenton, Florida, where we'll see how the Crown Design Group is constructing an interactive experience for the holiday season. Business partners Ben Graham and Garrett Walker built their reputation by creating a renowned AV department for Bayside Community Church and its campuses in the Tampa area, and now they're out on their own.
On this job, they're teaming up with with Bayside and Ben's father, Mike Graham, to provide sound, lighting and special effects for an interactive walkthrough of Bethlehem for the Bayside holiday show. It's expected to draw thousands of families from around the region, so the stakes are high.
Follow along every step of the way on the premiere episode of MarketScale's latest original series, The Install.
Stay tuned for the full episode. Click here to subscribe now!
Latest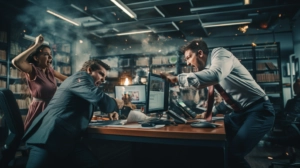 September 22, 2023
The kind of news that is delivered everyday serves as a grim reminder of the escalating violence across the U.S. Evidently, the need for proactive measures to ensure safety has never been more pressing. Such violence is not limited to any particular locale. It's actually permeating in so many different areas once considered […]
Read More