Explore Tech System's Modern Cash and Check Technology at TEXPO 2019
With the help of modern technology, a cash-based business can streamline and secure cash management operations. Technology makes it possible to keep track of deposits, make change, accurately balance all tills and so much more. With automated cash systems, the occurrence of errors is greatly reduced, as is the time that employees spend on maintaining cash throughout their shift. With the right system, your business will be well on its way to decreasing costs, enhancing solvency, increasing productivity and improving safety. In addition to using an automated cash system, banking becomes significantly simplified with the right check scanner.
Here are some critical reasons why you should embrace modern technology for your cash management processes.
Get Time Back and Reduce Labor Costs
Consider how much time your employees spend counting and maintaining cash. While employees are just doing their job, these cash-related tasks can be considered an inefficient use of time. With coin and cash handlers, cash exchanges are being tallied throughout a shift, allowing employees to focus on more productive tasks. Automation of cash processes also means employee schedules must no longer overlap as tills won't require reconciling before a shift ends and the next one begins, helping to decrease overall labor costs.
Reduce Cash on Hand, Develop Better Opportunities with Banks
With automated cash systems, you can move money more rapidly from your location(s) to the bank, maintaining steady cash flow within your accounts to establish a pattern of solvency that looks attractive to financial institutions. Considered less of a risk, banks are more likely to offer provisional credit. Provisional credit enables funds deposited into a business' cash system to be credited to their account, even when the funds are still physically in the cash system, improving capital positioning, reducing store float and the time and risk spent ferrying money back and forth from the bank—a genuinely effective solution for cash-intensive businesses.
Eliminate Errors
Whenever you have a cash discrepancy, the issue can escalate quickly. Even if the money isn't actually missing, much time must be spent sifting through every transaction to determine the root cause of the error. Human error is inevitable, but automated solutions can eliminate the human aspect of cash management while significantly reducing the likelihood of internal or external theft. With automated cash technology, you can create an error-free and safer environment for your employees while gaining complete transparency to cash processes.
See Automated Cash Systems and Check Scanners Up Close at TEXPO
Scheduled for April 7-9 at The Woodlands Waterway Marriot Hotel and Conference Center in The Woodlands, TX, at TEXPO 2019, you'll have the opportunity to experience these modern cash management technology solutions in action. TEXPO® is a Financial Management conference sponsored by The Alliance of Texas Treasury Associations (ATTA), a non-profit organization that brings together five regional Treasury associations—Austin, Dallas, Fort Worth, Houston and San Antonio. Dedicated to improving financial management through education, and communication, and showcasing the latest in financial technological innovation all in one venue, TEXPO, draws attendees from across the country and is widely recognized as one of the leading financial management conferences in the nation.
At this year's TEXPO, Tech Data Systems will be educating attendees about leveraging modern technology in the automation of cash management processes. We will be demonstrating the CIMA line of coin and cash handling solutions as well as the Canon CR-L1 check scanner with remote deposit capture.
CIMA has been a leader in the industry for over 55 years and provides cash management solutions that count, process, secure and follow cash in its route. With a non-stop innovative R&D team, an employee culture that blends passion with expertise, and cutting-edge systems that speak Italian, English, French, German, Spanish, Portuguese, Russian, Polish, Arabic, Turkish, Swedish, and Finnish, CIMA is automating cash processes around the world.
The Canon CR-L1 compact check transport is an innovative, easy-to-use device capable of scanning checks, money orders, coupons, payment stubs and other related payment documents, reducing overall processing time and courier costs. With the capability to scan up to 45 checks per minute (CPM) and featuring an up to 50 item auto feeder and eject pocket that allows for batch scanning, the CR-L1 simultaneously captures the front and back side of items, in color, black and white, or grayscale, providing quality Canon imaging technology that increases read rates and information capture with clarity and precision.
Stop by Tech Systems booth—#106—at TEXPO 2019. Witness CIMA's automated cash systems and Canon's check transport in action. Our team will be on hand discussing the benefits of these cash management devices, bringing efficient automation, organization and security to your cash management processes. To get a leg up on other attendees, you can also check out Tech System's entire product line before the show by clicking here.
Latest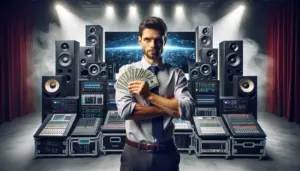 December 8, 2023
Mastering AV sales strategies in a global professional audio-visual (Pro AV) market, poised to reach $79.2 billion by 2028, requires much attention to detail. The surge in demand from corporate, government, and institutional sectors, driven by the need for enhanced productivity and efficient working environments, gives AV sales pros a lot of opportunity. In […]
Read More