Video Vices: Why We Need to Ignite the Next Generation of AV, with Visitec and NSCA
The Pro AV industry has reached a critical point. The core professionals running the industry are aging out. Many are retired or close to retiring. So how does the industry attract more early professionals to join the ranks?
John Thomas, the Regional Manager for Visitec Marketing Associates, and Kelly Perkins, Program Director for NSCA Education Foundation, join this episode of Video Vices to explore what it'll take to convince a younger generation to join Pro AV. Thomas and Perkins are the perfect pair to discuss recruiting new audio-visual talent because they could not have had more different experiences joining the industry.
Thomas, like many Pro AV professionals of his generation, was segued into AV from a career in broadcasting and has been in the field for more than 35 years. Perkins was also a broadcasting student, but eventually she found her way into video where she fell in love with her job. She's been working in the Pro AV industry for 10 years.
According to the NSCA alone, there are over 17,000 jobs open in AV fields but younger people are not attracted to them. Thomas feels that it is a combination of a couple of factors.
"Old guys in the industry are trying to replace and fill their positions," Thomas says. They're trying to find someone 'who works like them,' when, millennials and Gen Z'ers learn and work differently.
Additionally, for a generation that's obsessed with the "tribe mentality," Thomas thinks that new recruits feel left out when they attend conferences with professionals who've known each other for 35 years and speak their own language. AVIXA has recorded more than 1,000 industry acronyms, and Thomas proscribes this as a barrier to entry for young people that may feel intimidated or in over their heads. He feels that mentorship is key, combined with solid team building.
Perkins also points out that younger people aren't often excited by an 8-5 job where they're chained to a desk, and that offering younger recruits vacation time, the ability to work from home, or a more flexible schedule could be worth more than even the biggest salary. Right now, she reflects employers might think they don't have enough capital to interest industry newcomers, or that they're missing out on other powerful incentives.
For the latest news, videos, and podcasts in the Pro AV Industry, be sure to subscribe to our industry publication. A new episode of the Pro AV Show drops every Thursday.
Latest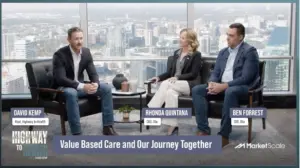 December 7, 2023
As of recent times, the healthcare industry has been progressively shifting towards value-based care, a model that emphasizes patient outcomes over the quantity of services delivered. This transition represents a significant shift that promises to enhance patient experiences and outcomes while controlling healthcare costs. With a growing emphasis on this approach, especially over the […]
Read More