TELARUS MASTER AGENT LOOKS AHEAD IN 2019
Like many businesses in the technology industry we make our bets months (even years) in advance to ensure that we have the right suppliers, engineers, support team, and marketing dollars in place to ensure our sales partners can stay ahead of the technology curve in 2019. Based on our research, our experience working with sales and supplier partners in 2018, and with the help of our industry contacts, we share with you our 2019 plan.
Why would a master agent company like ours share this information with the general public? We proudly share it with all of you so that you can align your dollars with ours and take advantage of our investments without overlap, maximizing your wallet share in 2019!
NEW WAYS TO DEEPEN WALLET SHARE IN 2019
2019 will be the first year in the history of the Telarus partner channel when ALL technology services that can be considered business "digital infrastructure" can be sourced by our partners. In the past, the IT managed services provider, the cybersecurity MSSP, the Microsoft VAR, the phone system VAR, and the telecom agent all stayed in their swim lanes. Well, those swim lanes are becoming fuzzy and even non-existent.
Everything is on the table, and Telarus is prepared to help you plant your flag in every single category. To do this, we'll be beefing up our supplier portfolio with more companies in:
Artificial Intelligence
Cybersecurity (the many sub-categories and layers)
Cloud Computing / Hyper-Converged Infrastructure
International (non-U.S.) network and cloud providers
PCI Compliance
Contact Center as a Service
Niche-geography Network Providers
Cloud Application Managed Providers
NEW TECHNOLOGY
When we add new suppliers that will help you solve more of your customer's technology puzzles, we create a problem of "information overload." This abundance of information is an issue that for 16 years we've been addressing by creating patented software tools that can be relied on to give you quick access to vendor capabilities, physical availability, and other key insights that you can draw upon 24/7/365.
Expect more of these vendor-selection tools to be announced and launched in August at Telarus Partner Summit 2019!
NEW TELARUS MASTER AGENT TEAM MEMBERS
Last year we integrated and further invested in the Subject Matter Expert teams from CarrierSales so that our partners could receive more in-depth support for their Contact Center, Mobility, IoT, and Cybersecurity deals. Expect that trend to continue as we hire support and engineering resources to keep up with demand so that we can remain pro-active and relevant in these new and exciting areas of opportunity.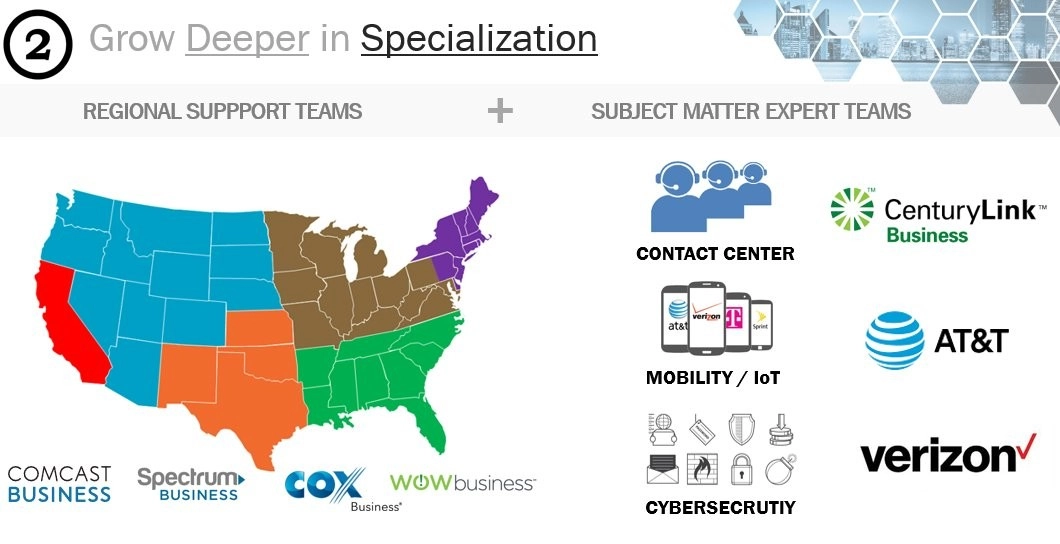 Contact Center – Quite possibly one of the most overlooked areas of growth in our space. Cloud center contact opportunities are big; almost every business has one, and the commission percentages are the highest of any service we sell. As of this year, only 17 percent of companies with a contact center had moved to a cloud-based platform, leaving a massive opportunity for cloud transformation on the table. With the help of the Telarus Contact Center sales team, you'll be able to partner with us to propose and close contact center opportunities like never before – without any hit to your compensation. Think of what we can do for your contact center revenue in 2019!
Mobility, TEM, and IoT – in the past, Telarus partners used to pass on mobility, wireless TEM, and IoT deals because we didn't have the providers or experts on our team that could add value. Last year we turned that paradigm on its ear as we invested heavily in our Mobility, TEM, and IoT department led by Tiffany Wolf. We have been offering great up-front and residual commissions for agents who brought us in to help them solve their customer's problems with mobility, management, and IoT deployments. Let us help you deepen your wallet share in 2019!
Cloud Computing – Telarus is proud to have AWS, Microsoft, and Google certified cloud experts on our Sales Engineering team! In addition to adding more cloud suppliers to our portfolio, we believe the most important thing we can do to help you close more cloud deals is to run appointments with you, as YOUR cloud engineer, who can speak strategy directly to the CIO and CTO's of you customers. Is Rackspace, Evolve IP, RapidScale, Thrive, or New Cloud Networks the best fit? We'll help you and your customer figure it all out from a vendor-neutral perspective and help you unlock non-network residuals like never before!
ILEC Expertise – CenturyLink, AT&T, and Verizon are companies that you need in your portfolio if you are going to be dealing with enterprise clients in 2019. When Telarus came together with CarrierSales in 2018, we combined both of our CenturyLink AND Level 3 bases into one, massive, book of business – making us one of THE top masters for CenturyLink in the world. We also doubled-down by hiring more industry experts, which include former employees of each ILEC, who are eagerly waiting to help you quote, propose, and close enterprise deals with each! Even more important, if you have a direct relationship with either of these three, the beginning of 2019 is a fantastic time to roll your base under us, so that we can partner together to ensure your ILEC practice continues to grow and be protected for the long term.
Cable – As one of Comcast's original three master agents, Telarus has always been a major player in the world of Cable, especially with Comcast and Spectrum. Over the past year we've been integrating Cox Communications, giving us access to coax and fiber services in markets like San Diego, Las Vegas, Phoenix, and Northern Virginia (among others). These assets are now visible to ALL of our partners in the Telarus mobile app, allowing you instant access to fiber-lit buildings from all of the major cable companies. Add GeoQuote to the mix, and you'll be able to pre-qualify, and price, all coax products in a matter of minutes, not days. We've also almost doubled our cable back office, further compressing the time it takes to order, provision, and get paid on Comcast, Spectrum, and Cox orders.
Cybersecurity – in 2019 you'll see Telarus roll out more Cloud Security vendors and consulting firms who have lined up to help you educate your customers on how to deal with the increased challenges posed by hackers and cybercriminals. We'll help you get into accounts and conversations that used to be reserved for the likes of Accenture, IBM, and the other big boys.
UCaaS – The past three years Telarus has made significant investments in our unified communications practice, and the bets are paying handsome dividends for our partners. Using the enhanced UCaaS matrix, the Telarus mobile app, and our UCaaS engineers, Telarus partners are taking things to a whole new level. UCaaS was the single-largest category of new suppliers coming into our portfolio in 2018, giving you access to all the major brands like Fuze, RingCentral, 8×8, Vonage, Mitel, Broadvoice, Jive/LogMeIn, and many more.
SD-WAN – 2018 was a breakout year for SD-WAN and our WAN engineering team. Josh Hasselhorst came to Telarus from SimpleWAN and will be a significant asset to our partners involved in SD-WAN deals in 2019. Add to that 20 SD-WAN providers who each provide resources to help your customers leverage the speeds of broadband with the security of a VPN to ensure cloud applications are prioritized and their performance is protected, and you've got a winning recipe for success. Friends don't let friends move their critical applications to the Cloud without a hardened broadband posture!
NEW VENDORS TO LOOK OUT FOR IN 2019
As a result of the combination of Telarus and CarrierSales, the new Telarus now has over 180 providers to offer you, making it even easier to keep all of your business in one, safe, innovative place. Some of the new providers that will be available to you in 2019 include:
Centrics IT
PCI Pal
Claro
China Mobile
Serenova
IBM
GreenPages
Connexicore (drone as a service)
Cato Networks
Source, Inc.
Splice
Ruby Receptionist

NEW SUPPLIERS / CAPABILITIES / INDUSTRY TRENDS
Mitel "all in" with the Cloud – Mitel recently removed the protected status of their on-premise hardware accounts and moved to an "ink wins" model. This means that they're going to pay ANYONE who moves that customer to the Cloud regardless of any pre-existing hardware relationships in place.
Major players enter the Cybersecurity space – with AT&T purchasing AlienVault, Verizon partnering with Cylance, and CenturyLink investing heavily in their internet security capabilities, you'll see more products, more options, and more intelligence in the network as ever before. Having a master agent with tight relationships with the "big three" will be a major issue when finding solutions for clients who require a "brand name" on any cybersecurity proposal.
Managed IT explosion – 2018 saw the launch of the Office Depot channel. No, this wasn't for their copy toner or paperclips, it was for their managed IT service capability that they gained from their acquisition of CompuCom. That's right – in 2019 agents will be able to bid on and win managed IT contracts that pay them a residual (more than most telecom residuals, for those keeping score at home). No more having to yield that business to an MSP! Or, if you are an MSP, you can broker CompuCom to the smaller clients that don't make financial sense for you to service yourself. It's a win-win-win.
EVENTS
Telarus Partner Summit will be back in the west. We'll be one of the first events held at the new Gaylord Rockies resort in Denver, Colorado. We expect it to be the biggest private conference in channel history, with special sessions on managed IT, SD-WAN, lead generation, IoT, security, cloud compute, and unique ways to win Contact Center business.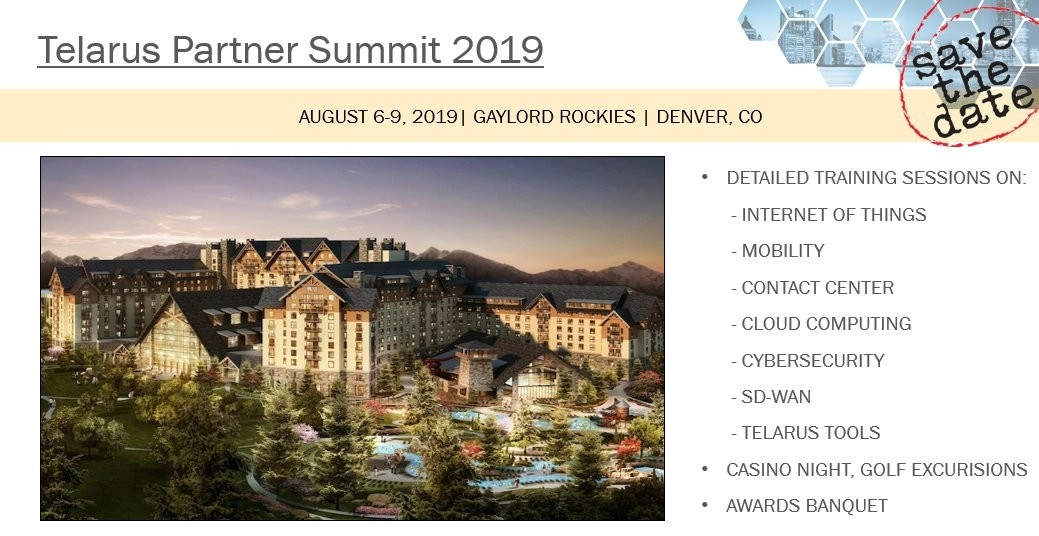 TICs, Boot Camps, and Local "Tech Talk" Events – show first 6 months of dates
INDUSTRY PREDICTIONS
Continued supplier acquisition, especially in the SD-WAN and UCaaS field
More niche technology players will spin up channel programs
New carriers in GeoQuote and MoonRize
Expansion into new countries and geographic areas
Dramatic increase in cloud computing and cybersecurity sales
Dramatic increase in international deals
OVERALL OUTLOOK FOR 2019
2019 is the year that many of our partners will reach the big leagues by expanding beyond their comfort zone. Telarus now has experts in every relevant (and hot) product line to go, hand-in-hand, with our partners to help them sell these new and exciting opportunities. We have built, and bought, the resources you're going to need to achieve new heights, all without passing these charges through. Everything we as a master agent and technology distributor have invested in has been for your benefit, and we are immensely excited to see the new heights that you'll be able to achieve with our tools, our staff, and our award-winning suppliers all working together.
The best part about 2019 is that the market is heading in our direction. Companies are looking to move to the cloud; they are looking for agents (aka "Trusted Advisers") to help them strategize and bring them multi-provider solutions that help them turn their IT infrastructure from "utilities" into competitive weapons. By partnering with Telarus, you'll be able to expand your team, punch outside of your weight class, and close deals that just last year would have been beyond your grasp.
We look forward to helping you exceed your goals in 2018! The pieces of the puzzle are ALL here. Let's do this!
Learn more at https://www.telarus.com/resources/articles/telarus-master-agent-looks-ahead-in-2019/
Latest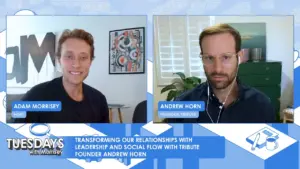 November 28, 2023
Can relationships be transformed through leadership and social flow? Navigating the intricate web of digital relationships can be a tricky proposition. Tuesdays with Morrisey's Adam Morrisey uncovers the transformative impact of emotional recognition in the workplace with Andrew Horn, the mastermind behind Tribute. This podcast edition unravels the story of a platform redefining how […]
Read More