Low Consumer Confidence Leads to Record Black Friday Sales? What Gives?
For some, record sales this last Black Friday may come as a bit of a shock. According to Commercial Observer, in the lead up to Black Friday, "consumers are feeling much more hesitant, and the retail landscape is looking trickier" thanks to inflation impacting consumer confidence.
How much is consumer confidence actually impacting discretionary spending habits, considering the retail world at large is celebrating a weekend of high revenue? How can we explain this paradox? According to Christine Russo, Host of What Just Happened, this consumer confidence phenomena is largely explained by a return to old habits: customers are spending later this year, and in general are spending more in the store and less in e-commerce which increases the average consumer's liquidity in their purchasing this holiday season.
Christine's Thoughts
"Customers are going back to stores anyway, regardless. The foot traffic has been rising, online shopping has been going down, shipping costs for online shopping is not really a factor, but there's a return to old habits, I would say, of people getting back into stores. And that has really affected online e-com numbers since Q2 of 2022.
I think the customer is spending later than usual this year. I would not refer to this holiday season as one that could be expected to end in a slump. I think that it will probably be flat, but some say flat is the new up, certainly in 2022.
We are seeing a lot of pre-pandemic numbers come back in. There's like a normalization to sort of wipe out the activity that occurred during 2020 and 2021 because of the liquidity of the customer. So everyone's kind of, the industry is going back to using 2019 numbers as the benchmark, and I think that in the end we're going to see an unchanged or equal end result."
Latest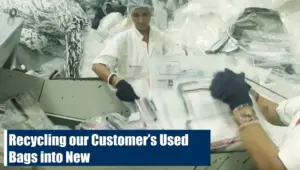 December 6, 2023
This video focuses on EcoLOK4, a groundbreaking product by CONTROLTEK that exemplifies innovation in sustainability. It highlights the process of transforming landfill waste into new deposit bags, with 90% of each bag's material being repurposed trash. This initiative not only reduces waste but also closes the sustainability loop, demonstrating CONTROLTEK's commitment to environmentally friendly […]
Read More