New Data Shows Downtrend in Brick and Mortar Holding into 2021
Shopping in the modern world looks much different now than it did at the beginning of the year. In fact, numbers were up before the pandemic. Looking to the end of 2020, dramatic downturns are holding steady for brick and mortar. Discussing these data points today with Daniel Litwin is John Kelly, CEO of Zenreach.
Zenreach's data suggests that through the end of the year, retail will dip to 21.5% compared with 2019. So, how does Zenreach obtain data on in-store shoppers?
"Our product is a software layer that sits on top of local Wi-Fi, which transforms to a sensor. The pings from smartphones translate to measuring foot traffic," Kelly said.
With an unpredictable year for retail, what does this mean for in-store shopping?
"The biggest low was April at 75%. Summer traffic picked up by 50%, but since July, retail traffic has been flat," he said.
Retailers are filling the gaps with astronomical gains in eCommerce, with some huge wins on Black Friday and Cyber Monday, at $9B and $10.8B, according to Adobe Insights.
"Retailers have to lean into eCommerce to make up the difference, but the in-store experience isn't over," Kelly noted.
What retailers need to do is understand who their in-store shoppers are better.
"Tech has evolved to understand customers in your shop and tie it to an online identity, allowing you to market to them much better," Kelly said.
With a vaccine for COVID on the horizon, retailers can look toward that for resurgence of in-store shoppers. That's likely months away, but retailers have opportunities right now.
"Marketing is critical at this time to talk about safety precautions, hours, and offerings," Kelly commented.
He cautions, though, not to "give up on offline retail."
"The tangible aspect and discovery processes are hard to replicate online. When customers come back, have the infrastructure ready to market to them better and be more effective," Kelly said.
Latest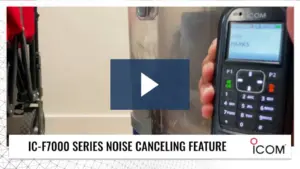 September 27, 2023
In this brief product demonstration video, ICom's IC-F7000 Series receives a mic test of its noise-canceling feature. Through the two demonstrations it is clear the IC-F7000 removes loud ambient noise for clear two-way communication.
Read More