The Need for Sustainability in Industry 4.0

What is Industry 4.0? A revolution that has many names, Industry 4.0 is the name of the 21st century technology boom that is creating advanced AI, robotics, and smart, connected devices. But how can industry 4.0 help change the way businesses conduct business?
On this episode of "What Just Happened?", host Christine Russo spoke with guest Lenny Marano, President of the Americas at Lectra, about Industry 4.0 and the importance of sustainability.
Industry 4.0 isn't just about becoming more connected. It's also about building technology that is more efficient, to help with better planning, and to develop more sustainable processes that will last into the future.
"Sustainability is native, a native part of what we do, and now when we've talked to customers, it's evolved from socially conscious, to sustainability equals profitability, to consumers command it," said Marano.
Marano and Russo discuss…
● How sustainability in Industry 4.0 impacts profitability
● How Lectra's solutions help reduce labor, material waste, and production
footprint for a more sustainable solution
● Why investing in Industry 4.0 technology is a key ingredient for success
"I think, for me, winning is getting a product to the consumer that they recognize the value in, in a sustainable way that is profitable for those throughout the value chain," said Marano.
Marano has been President of the Americas since 2021. Prior to Lectra, Marano worked in various positions, including the C-Suite, with Gerber Technology for seven years. He has two decades of experience in marketing, product management, and technology roles, including in senior product management roles. He is a graduate of Central Connecticut State University with a Bachelor's in Accounting.
Latest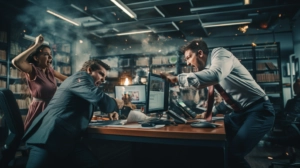 September 22, 2023
The kind of news that is delivered everyday serves as a grim reminder of the escalating violence across the U.S. Evidently, the need for proactive measures to ensure safety has never been more pressing. Such violence is not limited to any particular locale. It's actually permeating in so many different areas once considered […]
Read More