5 Space Bound Companies That Can Get Your Business to the Moon
In 1969 Neil Armstrong took his famous first steps on the moon. In the half century since, only a select few have followed in his path. However, the private sector is intent on changing that soon.
Here are five companies that are working towards making commercial space travel possible in the near future.
1. SpaceX
Elon Musk started SpaceX in 2002 and has since achieved several historic milestones. In 2010 it became the first private company to successfully return a spacecraft from low Earth orbit. It also delivered cargo to the International Space Station in 2012. SpaceX has now conducted more than 100 test launches.
2. Blue Origin
Blue Origin dates back to 2000, and like SpaceX, was also founded by a billionaire. Jeff Bezos has the ambition to make life on Mars a reality but is also focused on commercial flights to space with the idea of safely returning passengers.
3. Virgin Galactic
Another commercial space flight program, another billionaire founder. Richard Branson's Virgin Galactic hopes to send passengers to space every 32 hours within the next four years, according to a document released by the Securities and Exchange Commission this week. Business Insider reports that tickets to space on Virigin Galactic would cost $250,000.
4. Rocket Lab
Smallset launch service provider Rocket Lab is on a mission to open space to explorers everywhere. By providing a sustainable satellite launch system cheaper and faster, companies will be able to build a roadmap among the stars. The company, which has offices in California and New Zealand, is hoping to meet the increasing demand of commercial space launches.
5. Boeing
Also facilitating other companies' space launches is Boeing. The company has manufactured parts for commercial, research and military space missions. These include satellites, GPS devices, launch systems and more. Particularly, Boeing is working with NASA to create a gateway for trips to the lunar surface and eventually Mars.
Latest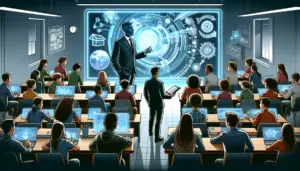 November 27, 2023
In an era where education stands at the crossroads of tradition and innovation, the potential value of thought leadership becomes the guiding star for progress. "Just Thinking" dives into this potential with host Kevin Dougherty and guest Evan Edwards, a Professional Learning Specialist at 806 Technologies who exemplifies the transformative impact of visionary guidance […]
Read More