Advocating for the Scientific Community Through Media
On the Space to Grow podcast, Astroscale's Chris Blackerby and Charity Weeden bring their compelling experience and expertise to map out the technology, international policy, and scalability that will define the next generation of space exploration.
Looking at all aspects of the world of space and science is the crux of Space to Grow. It's time to look at the human and storytelling aspect of science and space. Hosts Chris Blackerby and Charity Weeden of Astroscale welcomed MIT Engineer and Emmy-nominated science TV host Emily Calandrelli to the podcast. Calandrelli is a prominent member of the science communications ecosystem and shared her own story and insights on storytelling in science.
Becoming an engineer wasn't a lifelong dream for Calandrelli—her drive was purely practical until discovering the technology and policy program in grad school at MIT. "It was looking at science and technology through a policy lens and asking about if it's ethical, the role of government, and keeping the public safe. I thought these were fascinating questions," she said.
That experience shifted her career to be more policy and communications driven. She intended to work in DC but got a call from a production company asking her if she wanted to host a TV show about space.
Years later, she's a strong voice for the scientific community and advocates for people with all different talents to get involved in the space industry. "There are other ways to get involved in space outside of STEM," she added.
Those types of roles are now trying to spread scientific literary and combat misinformation. Calandrelli focuses her approach on the human side of the story. She explained, "Going to the real human emotions attached to the story matters. You can frame an argument based on what the audience cares about and find simple, creative ways to explain science."
Science is complex and uncertain, especially the coronavirus. In communicating a difficult and uncertain event, Calandrelli sees that science communication is challenging. "Everyone's learning how to communicate this uncertainty, but there's a lot of false information out there. It's important to learn from the right sources," she said.
Follow us on social media for the latest updates in B2B!
Twitter – @MarketScale
Facebook – facebook.com/marketscale
LinkedIn – linkedin.com/company/marketscale
Latest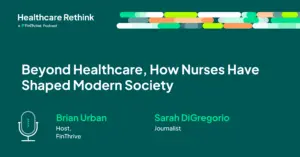 December 4, 2023
Nurses Have Shaped Modern Society beyond healthcare to stand as pivotal figures that transcend their traditional roles, influencing the broader spectrum of societal change. Healthcare Rethink, a FinThrive podcast hosted by Brian Urban, welcomes Sarah DiGregorio, Journalist, Author, and Speake,r to discuss her second book, "Taking Care: The Story of Nursing and Its Power […]
Read More