Expert Compares SpaceX and Bezos' Blue Origin Space Race to the Tortoise and the Hare
Brad Stone, the author of "Amazon Unbound", compares Elon Musk's SpaceX to Jeff Bezos's Blue Origin — referring to them as the tortoise and the hare. But what else separates the two intergalactic competitors? Who will eventually win the space race? Watch below for more.
Host: It's hard to believe that Blue Origin is actually more than 20 years old and now they're just getting to their first human launch, but how is Blue Origin different from SpaceX? And how is Elon Musk different from Jeff Bezos?
Stone: It's incredible. In the empire of accomplishment, Blue Origin for Jeff Bezos is kind of, you know, the tarnished jewel, at least right now.
Host: The ugly stepchild?
Stone: Or let me put it. Let me use the word, the metaphor they use. It's the tortoise and not the hare. He always wanted to go slow. He wanted to constrain the investment. He wanted to keep the team small, and he wanted to move step by step. And so suborbital or the edge of space and bringing tourists. There was going to be the first step. And then they would get to orbit and then they would go to the moon. And what happened was the hare came along. Elon comes along, finances it with venture capital and then government contracts and gets all the glory. And they do quite well. And I think Bezos has a fair amount of I don't know if jealousy is the right word, but curiosity that here Elon is getting paid by the government to launch and he is still funding Blue Origin to the tune of a billion in Amazon stock every year. And so we've seen Bezos accelerate blue origin's timetable, its ambitions, its timeline, and see it a little bit of dysfunction over the past few years. And so far, there hasn't been a lot to show for it.
*Bloomberg contributed to this content
—
Follow us on social media for the latest updates in B2B!
Twitter – @MarketScale
Facebook – facebook.com/marketscale
LinkedIn – linkedin.com/company/marketscale
Latest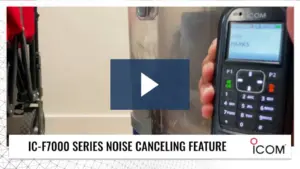 September 27, 2023
In this brief product demonstration video, ICom's IC-F7000 Series receives a mic test of its noise-canceling feature. Through the two demonstrations it is clear the IC-F7000 removes loud ambient noise for clear two-way communication.
Read More